You have not viewed any product yet!
Select Currency
FOX v.1.4.1.1
+
8 Must-Buy Body Jewelry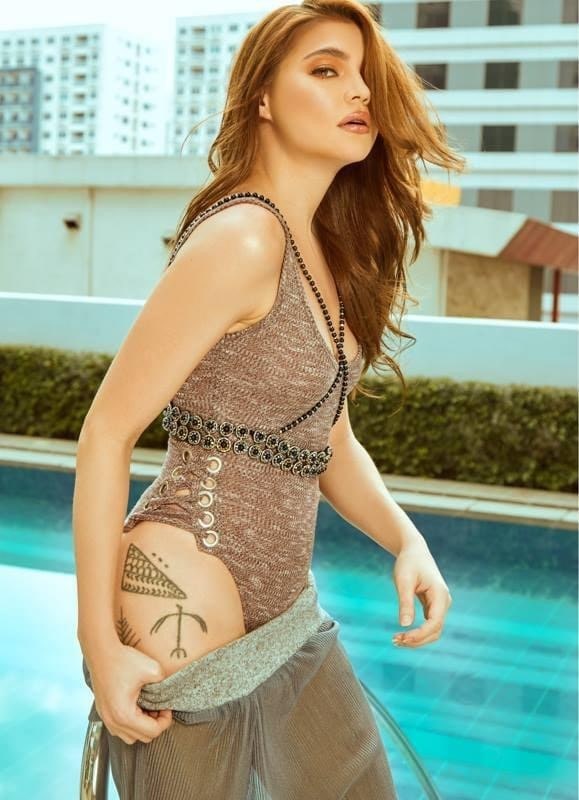 What are the must-buy body jewelry pieces from Flutter?
Hibiscus Garden

Moonflower Bed

Faerie Lights

Gold Cascade

Dominatrix

Amazona

Tinkerbell

Arabian Nights
If you style your outfits often, you'll know the importance of having multiple accessories in your collection — whether it's necklaces, earrings, or bracelets. But if you want to stand out from the crowd, you also need to build a collection of body jewelry! From the name itself, body jewelry accentuates parts of your body — from your abs, waist, shoulders, chest, and many more! Below are some must-buy body jewelry pieces from Flutter. Read on!
Hibiscus Garden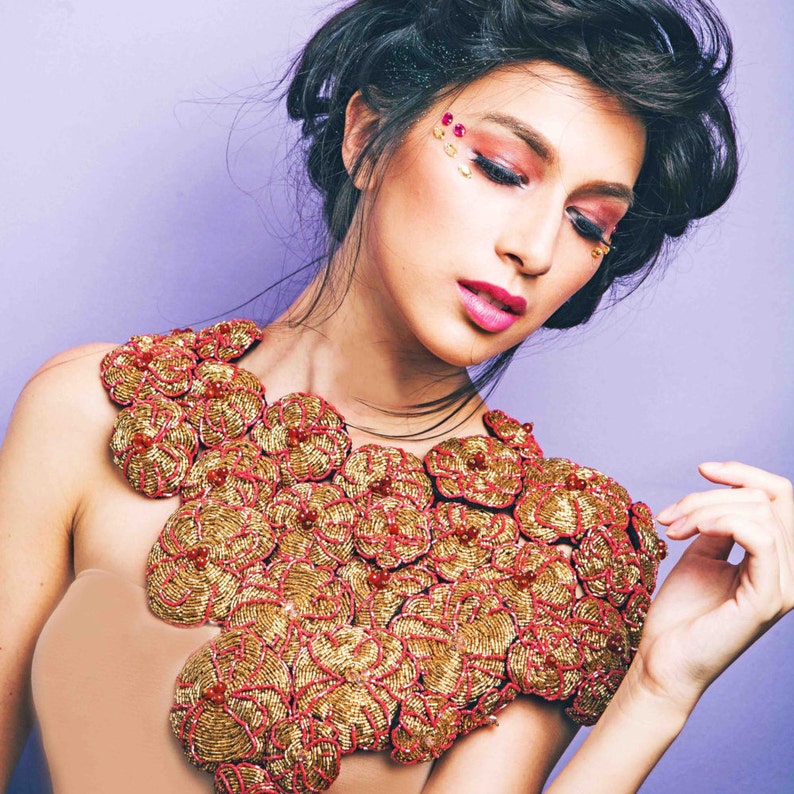 Bring art wherever you go with the Hibiscus Garden body jewelry, a red and gold jewelry cape that is hand embroidered by skilled Filipina women. Hibiscus is a plant with colorful flowers — often deep red—and is found in places with warm and tropical climates.
This jewelry cape can be worn to special events. The design, which is composed of small red agate stones and red and gold hex cut beads will surely remind onlookers of a beautiful hibiscus garden.
Moonflower Bed
Another wearable art from Flutter, the Moonflower Bed is a silver-white beaded flower cape adorned with Japanese hex cut beads, malachite stones, onyx stones, and hemlock green crystals. The colored stones and crystals complement the white base well, with an overall look that is delicate, feminine, and sophisticated.
For this reason, the Moonflower Bed is suitable as a bridal cape, capable of enhancing even the most dainty and elegant gowns. 
Faerie Lights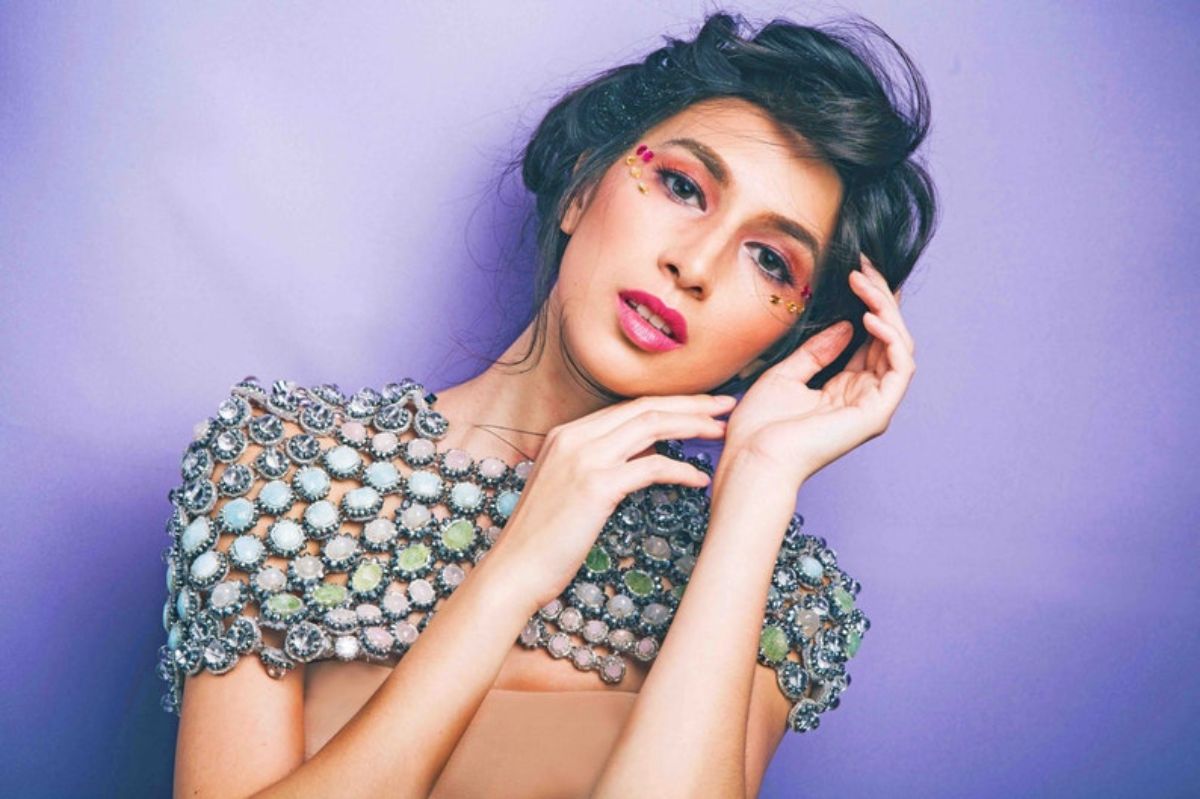 Inspired by fairies and fantasy, the Faerie Lights capelet is perfect for pastel lovers with its medley of semiprecious stones. From aquamarine, rose quartz, prehnite, lavender agate, and many more — the combination of the different stones create a soft, dainty, and feminine vibe.
Wear the Fairie Lights with a neutral-colored tube dress for an elegant look. Complement your outfit with some pastel-colored makeup to complete the fairy-inspired style!
Gold Cascade
Highlight your sexy arms with the Gold Cascade layered crystal shoulder chain, another must-have body jewelry from Flutter! Made with citrine stones, gold crystals, amber beads, and rose pink crystals, this accessory has multiple beaded drapes that will adorn your shoulders. The neck is also not forgotten, as the golden choker is luxurious and sultry.  
To achieve maximum impact, wear the Gold Cascade body jewelry with sleeveless tops. When you see yourself in front of the mirror, you will be reminded of Arabian nights and sexy belly dancers.
Dominatrix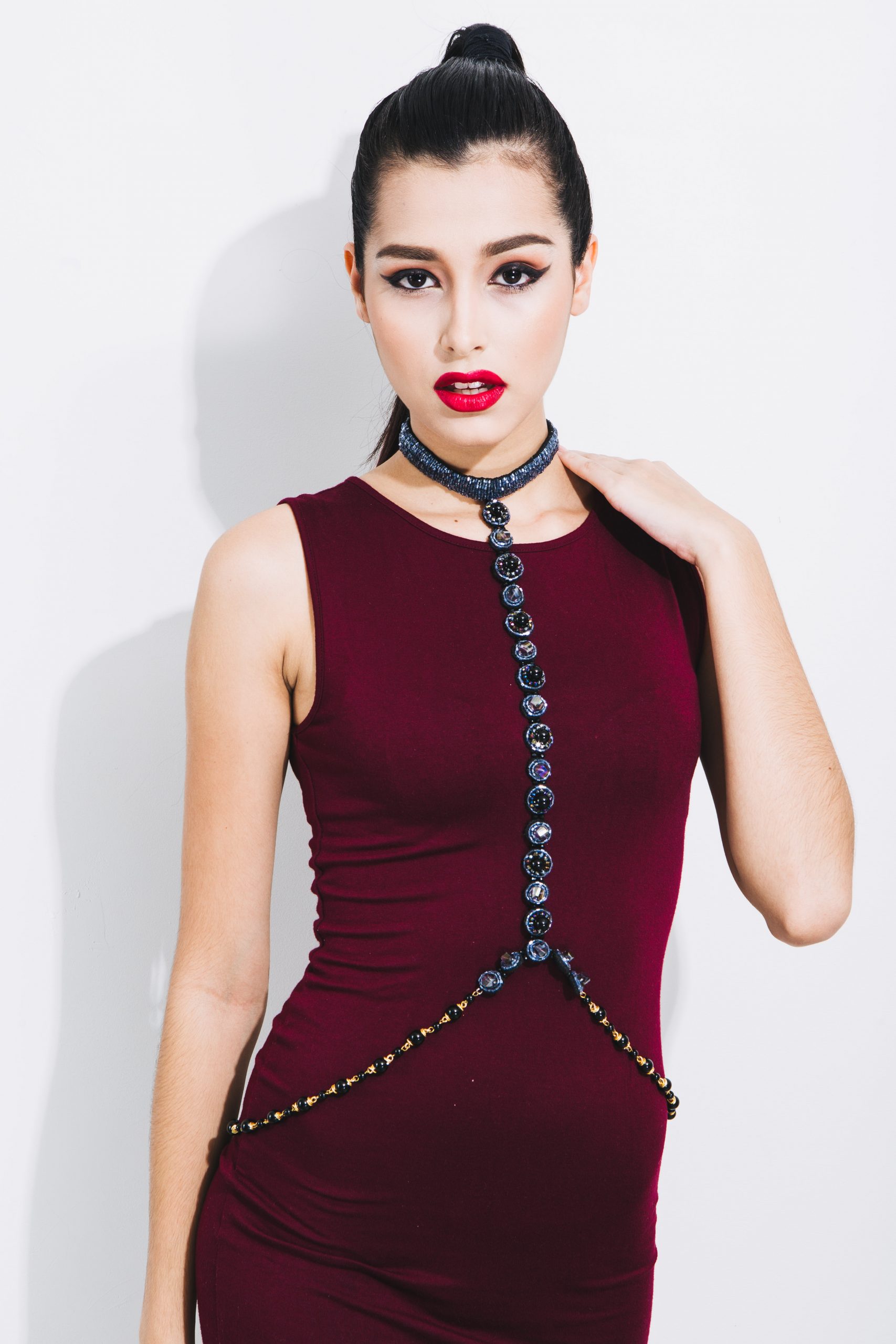 Fan of more edgy styles? If that's the case, the Dominatrix body belt is a must-have for you! Handcrafted with black glass beads, gunmetal twisted glass beads, onyx stones, and Tawainese seed beads, it combines a rocker-chic look and elegant style in one! The body belt starts from your neck, goes over your chest, and ends on both sides of the waist, giving you a sexy vibe.
Wear the Dominatrix body harness with a fitted black top and black leather pants for that rocker-chic look. For a sexier and more elegant look, wear it on top of a dress or under a blazer.
Amazona
Inspired by strong warrior women, the Amazona crystal body jewelry was made to make you more confident in what you wear by making a statement. Hand-embroidered with gunmetal blue twisted glass crystals and silver-white premium Japanese beads, the Amazona is surely to catch attention everywhere you go. 
Wear this sexy blue-gray body belt to add some sparkle to your outfits whenever you're on a night out or attending a formal event. 
Tinkerbell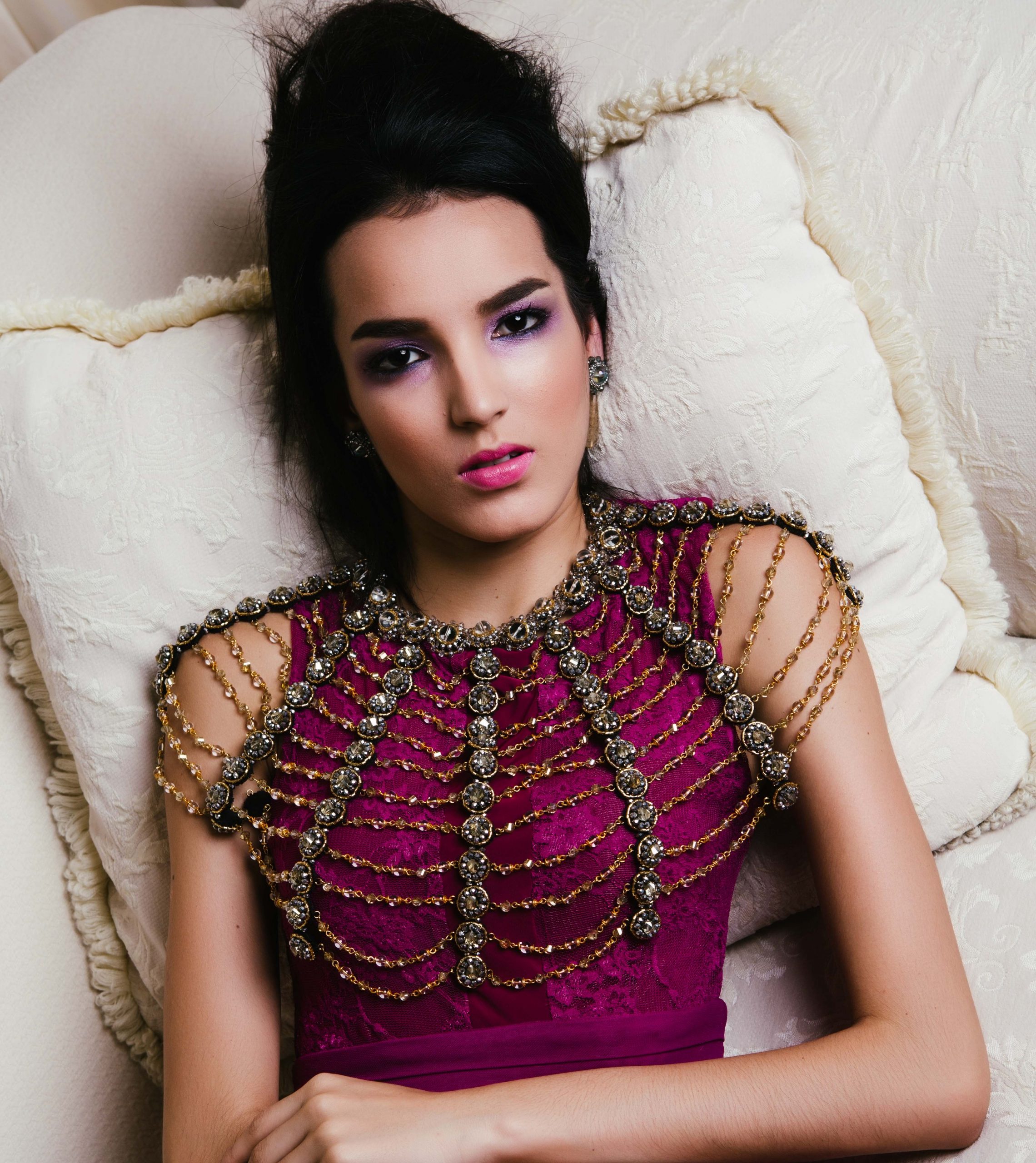 Make a grand entrance in social gatherings by wearing the Tinkerbell capelet necklace! This is essential if you're frequently invited to formal events. 
The jewelry vest pairs well with more simple evening gowns, thanks to its sparkly stones, glass crystals, and beads. Various crystal drapes hang from columns of crystal-filled cabochons, adding a touch of glitter to your formal outfit.
Arabian Nights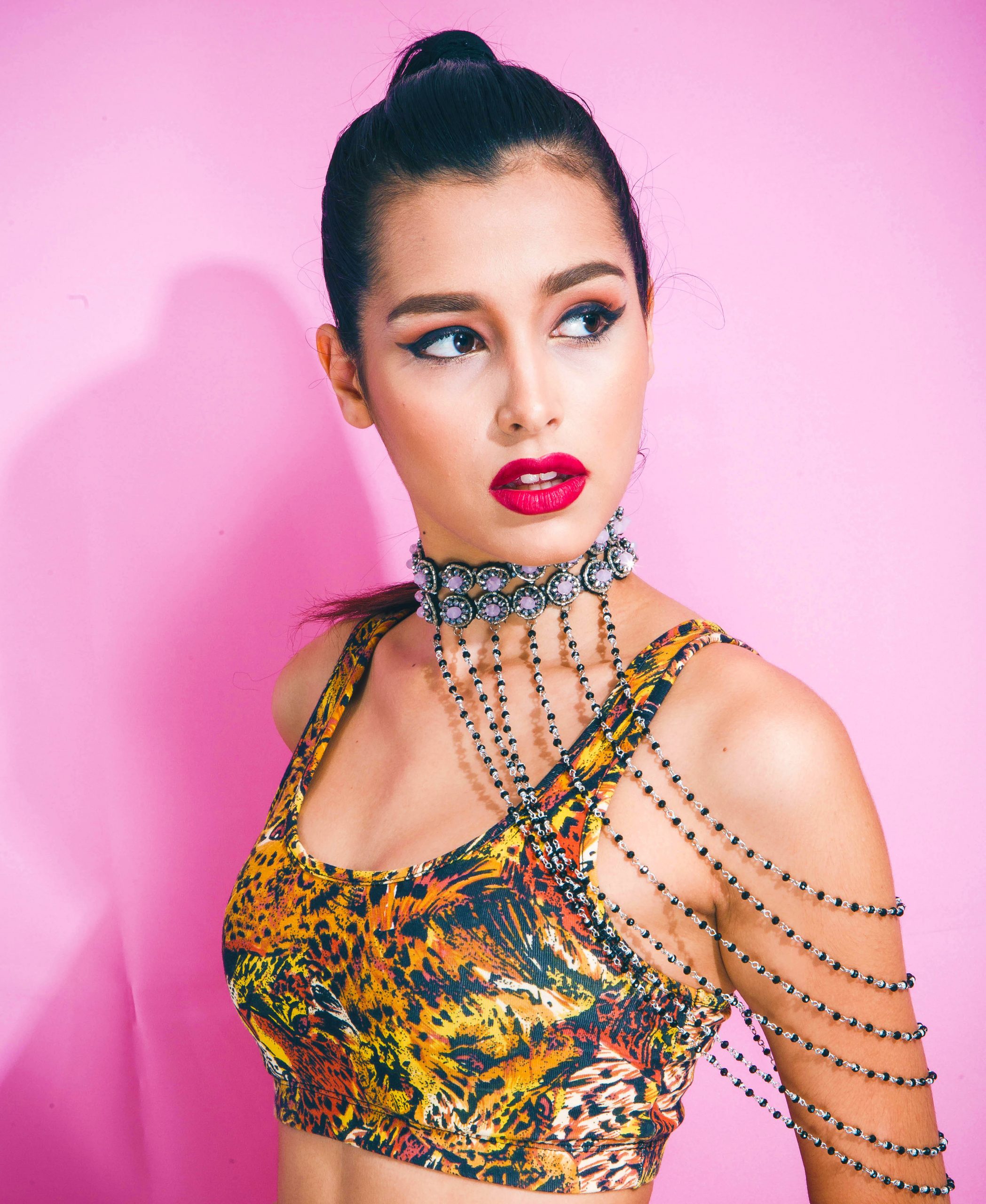 There's just something unique and interesting about asymmetrical accessories. They give off sexy, unique, and chic vibes in a world where symmetry is the norm. For instance, the Arabian Nights crystal shoulder jewelry is made of hand-embroidered black crystal drapes which highlight the shoulder area for that sultry look. This asymmetrical piece is secured with a choker made of crystals and Japanese beads.
Channel your inner sexy belly dancer and wear the Arabian Nights shoulder accessory with tube tops, so you can show off your body! For a more reserved look, pair it with a long-sleeved black top. 
Key Takeaway
Body jewelry can enhance and highlight other parts of your body that an earring, necklace, or bracelet couldn't. That's why if you want to make a statement, there are plenty of options for you — from shoulder jewelry, capelets, body belts, and many more. 
If you want to buy body jewelry, you can browse our collection here at Flutter! All of our unique pieces are handcrafted and hand-embroidered by passionate Filipina women.
Make your Design Happen
Provide us your email and we'll send you a quote and instructions on how