You have not viewed any product yet!
Select Currency
FOX v.1.4.1.1
+
Tips On Choosing The Right Necklace For Your Neckline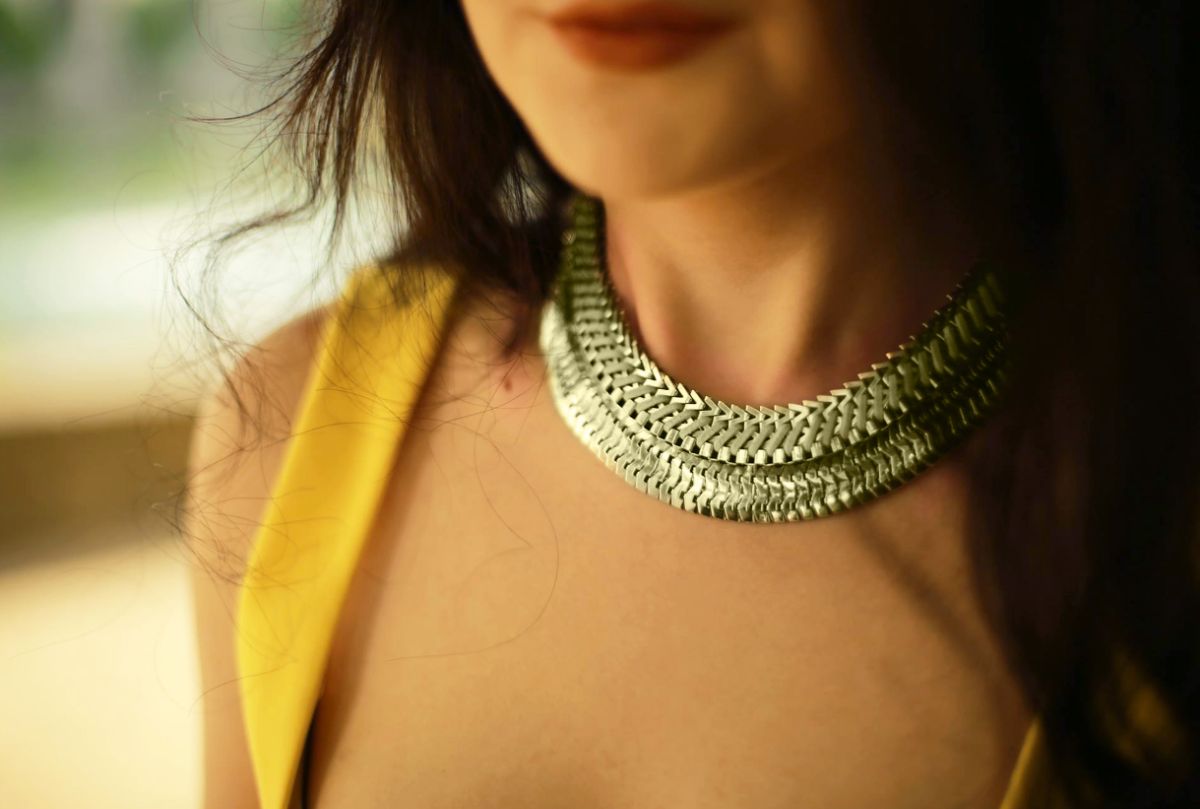 How do you choose the right necklace for your neckline?
Crew neck

V-neck

Sweetheart 

Square

Halter

Turtleneck

Collared

Strapless
The beauty of owning multiple necklaces with different designs and lengths is that you can mix and match when creating an outfit. If you observe from celebrities and social media influencers, certain types of necklaces look better with specific necklines, while some pairings might look strange. This is because choosing the right necklace for your neckline can impact your overall look. 
When choosing necklace pieces, it helps to know more about the different necklace lengths. If you're interested, you can view our blog post about this topic here at the website. 
If you want to style your best statement necklaces, keep on reading to learn more!
Crew Neck
When you're wearing a crew neck t-shirt, sweater, or bridal gown, you should opt for shorter necklaces to emphasize your beautiful neck. A choker or princess-length jewelry piece with a round pendant will complement this type of neckline. For high crew necklines, opt for opera-length necklaces, which can offer a bold statement.
If you're looking for a choker with a rounded pendant, you can check out the Rose Gold Gumball Necklace, which has a round rose quartz as the main piece.
V-Neck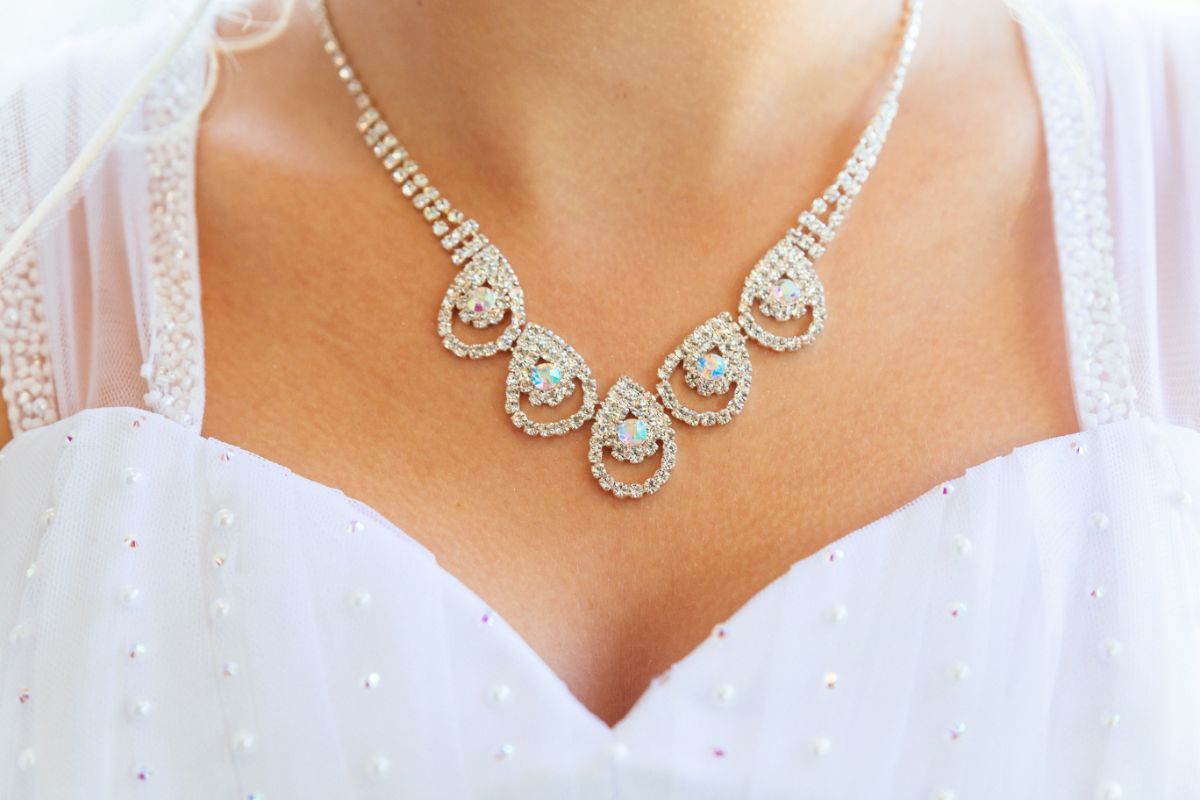 V-neck necklines will vary when it comes to width and depth. The strategy here is to choose a necklace that will complement the shape of the neckline. The general rule of thumb is to opt for necklaces that are not too long, as this can remove the attention from your neck. Choose chains that are also V-shaped for the best results. Other than that, an angular pendant is also recommended.
Going to the beach in a V-neck dress? The Aloha Necklace will look good with your outfit!
Sweetheart
A sweetheart neckline is shaped like the top of a heart and is a popular choice for wedding gowns. The trick here is to pick a jewelry piece with a pendant that will end above the neckline. Avoid pieces that are longer than the neckline to create a more cohesive look. Chokers are also a great option too.
If you're looking for a statement piece that will go well with your sweetheart neckline wedding gown, take a look at the French Studded Choker.
Square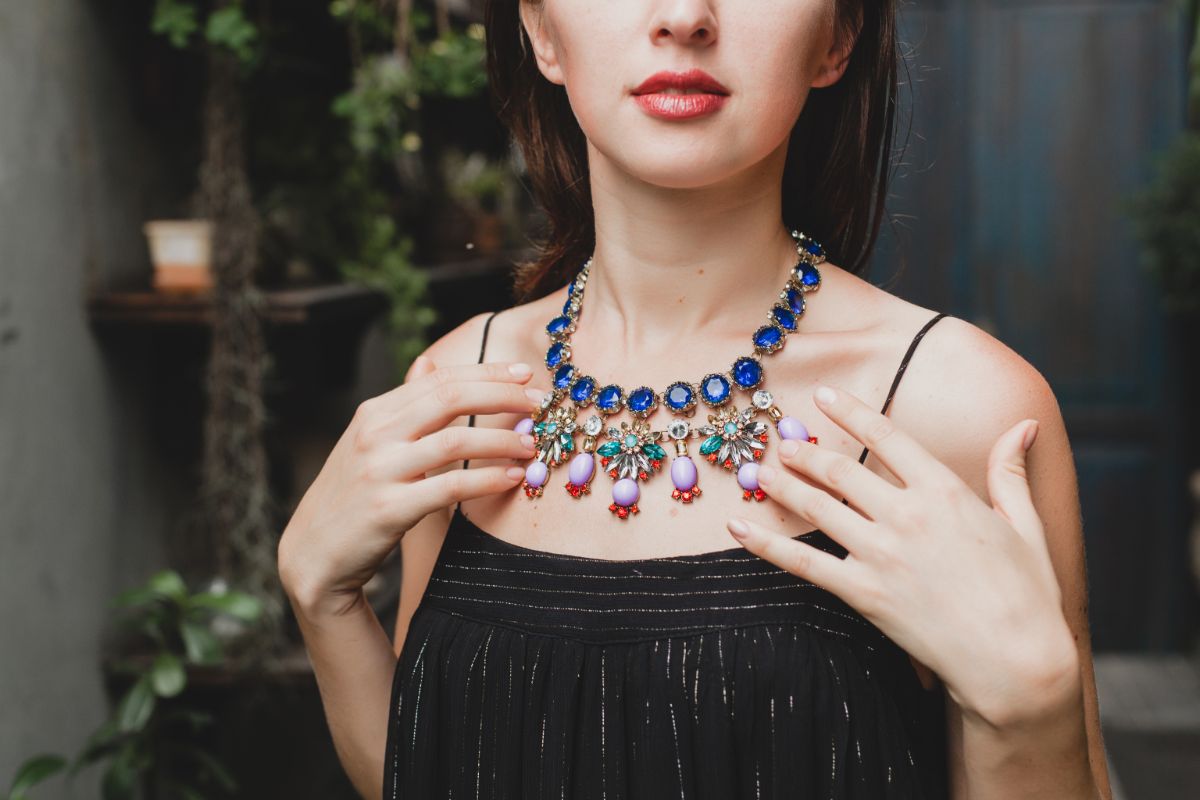 To complement a square neckline, it's recommended to pick necklaces with angular pendants. Just be careful not to select a square shape to prevent your outfit from looking too overwhelming. Another tip is to choose a chain that won't extend beyond the neckline.
The Punk Queen Necklace is made up of amethyst chevron spikes and other beautiful beads that will complement your square neck outfit.
Halter
The consensus when it comes to halter-neck outfits is that they're best worn without a necklace. This is because halter tops and dresses will cover your neck area. Instead, you can select a pair of beautiful statement earrings to complement the look. 
If you're interested, you can browse Flutter's selection of unique earrings! From casual to formal — there are plenty of designs and colors for you to pick from.
Turtleneck
Like halter tops, you might find it difficult to accessorize a turtleneck. To make a statement with this type of neckline, it's recommended to go for longer necklaces. Opera-length jewelry pieces are especially preferable, but medium-length ones are also a good choice. 
Planning to wearing a neutral-colored turtleneck top? Add some bling with the Mustang Chick Necklace, which is made of silver iron oxide mineral beads, rainbow glass beads, and blue polymer clay beads. 
Collared
Looking for a necklace that will pair well with your button-downs for work? There are two ways you can style your outfit. First, you can opt for a choker necklace with a short pendant. The second option is to choose a long neck chain, like a princess length, and layer the jewelry piece over your top.  
If you're looking for a classy statement necklace for your collared tops, you can opt for the White Tulips Necklace which is perfect for an everyday look at the office!
Strapless
An open neckline complements shorter necklaces — either chokers or princess lengths. These will effortlessly highlight your beautiful neck and shoulders. Anything that is longer will make the overall look seem unbalanced. 
To add a touch of sparkle to your simple strapless outfit, you can try on the Stage Lights crystal beaded choker. The silver fire flash polished crystals are the perfect material to add bling to your evening wear.
Key Takeaway
Styling your clothes can be tricky because they come in different necklines. This is why having multiple necklaces is useful because you can mix and match different looks.
If you're choosing the right necklace for your neckline, you can browse our unique statement pieces here at Flutter! All our products are handcrafted by skilled Filipina women who are experts in beadwork and jewelry making. Aside from necklaces, we also offer earrings, bracelets, and body jewelry that will enhance your look.
Make your Design Happen
Provide us your email and we'll send you a quote and instructions on how