Your cart is currently empty.
You have not viewed any product yet!
Select Currency
FOX v.1.4.0
+
How To Wear A Statement Necklace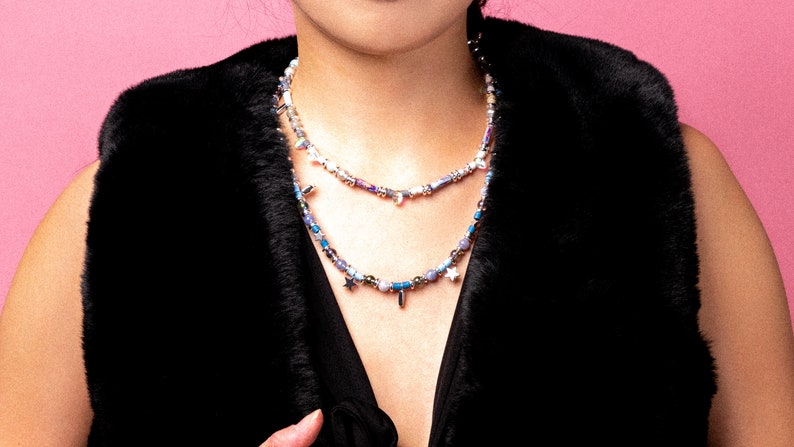 How do you wear a statement necklace?
Pair it with a simple outfit

Keep other accessories low-key

Go for a monochromatic look

Opt for open necklines

Dress up collared and high neckline outfits

Layer it with other necklaces

Put your hair up
If you're bored with your usual look, you should find the right accessories to make your outfits look more interesting. The best statement necklaces can upgrade the look of even the most simple outfit. If you want to learn how to wear a statement necklace, keep on reading to learn more!
Pair It With A Simple Outfit
The most foolproof way to wear a statement necklace is to pair it with simpler clothes. Statement necklaces should be exactly that — a statement. So, try to let your necklace be the star of your outfit. 
For example, you could try wearing the Pink Wednesdays Necklace, which is a hot pink retro 90s beaded choker, with a solid black dress and heels. Because the rest of your outfit is simple, the statement piece will stand out and attract attention.
Keep Other Accessories Low-Key
The general rule of thumb is to wear statement necklaces alone. It's best not to pair them with statement earrings, otherwise, it could look like there is too much going on with your outfit. 
If you're planning to wear other accessories with your statement necklace, make sure they're very subtle. You can choose to wear a small pearl or diamond-studded earring to make your statement necklace stand out. 
Go For A Monochromatic Look
If you want to look effortlessly stylish, try coordinating the color of your statement necklace with the rest of your outfit by going for a monochromatic look. To do this, wear clothes with similar shades as your necklace.
For example, if you're wearing the Lipstick Necklace, which is made with red ladybug hand-blown lampwork glass beads, opt for a red dress too. You can go for different shades of red such as garnet, crimson, scarlet, or ruby!
Opt For Open Necklines
Statement necklaces match well with open neckline clothes, such as off-the-shoulder, V-neck, scoop neck, and strapless tops. These clothing styles will make your necklace stand out while showing accentuating your neck, making it appear longer. 
But, make sure that the statement necklace you choose will also complement the neckline of the clothes you're wearing. For instance, if you're planning to wear a strapless dress, opt for shorter statement necklaces to make your outfit more balanced. For V-neck shirts, pick necklace chains that are also V-shaped. 
Dress Up Collared And High Neckline Outfits
Statement necklaces can also work well with collared and high neckline clothes in your wardrobe. For example, if you want to style your button-up blouse for work, you can place the statement necklace around the collar. The second option is to wear a choker-style necklace and unfasten the top buttons of your button-up blouse for a more classy look.
If you're wearing a turtleneck top, a bold and chunky necklace can make your outfit look more luxurious and elegant. Go for large pendants and beaded pieces to achieve this look.
Layer It With Other Necklaces
For a unique and striking aesthetic, try layering multiple statement necklaces together. Make sure that each necklace has a different length, so you can showcase every jewelry piece properly. You can also opt to pair a simple and dainty necklace with a more eye-catching necklace for a more balanced look.
To give you an idea, you can wear the Black Star Necklace, which is a 90s black beaded necklace, with the Hola Necklace, which is a customizable mother-of-pearl letter necklace.
Put Your Hair Up
If you want to highlight your statement necklace more, you can try putting your hair up. Aside from putting the focus on the accessory you are wearing, this will also make your overall appearance more chic, polished, and sophisticated. 
Try going for a messy top bun or a high ponytail for casual days. For example, if you're going to the beach, these hairstyles will go well with the Aqua Girl Necklace, which is made of mother-of-pearl rings and other sea-related adornments. 
For formal events, you can put your hair up in a chignon or low bun while wearing the Gold Cleo Necklace, a gold Egyptian-style collar necklace. 
Key Takeaway
A statement necklace will attract the attention of onlookers, so it's a great option if you want to accessorize a very simple outfit. Keep the rest of your jewelry subtle and try layering it with other necklaces to create a bold statement. You can also put your hair up to highlight the necklace. As for what types of clothes to wear, you can try tops with either open necklines or high necklines. You can also go for an effortless and monochromatic look. 
These tips will give you an idea of how to wear a statement necklace. But the most important thing to remember is to have fun experimenting. Try on different jewelry combinations and accessorize different types of outfits so you can find the look that will suit your personality and preferences. If you're looking for more unique accessories, you can browse our statement necklaces here at Flutter!
Make your Design Happen
Provide us your email and we'll send you a quote and instructions on how