You have not viewed any product yet!
Select Currency
FOX v.1.4.1.1
+
How To Wear Statement Earrings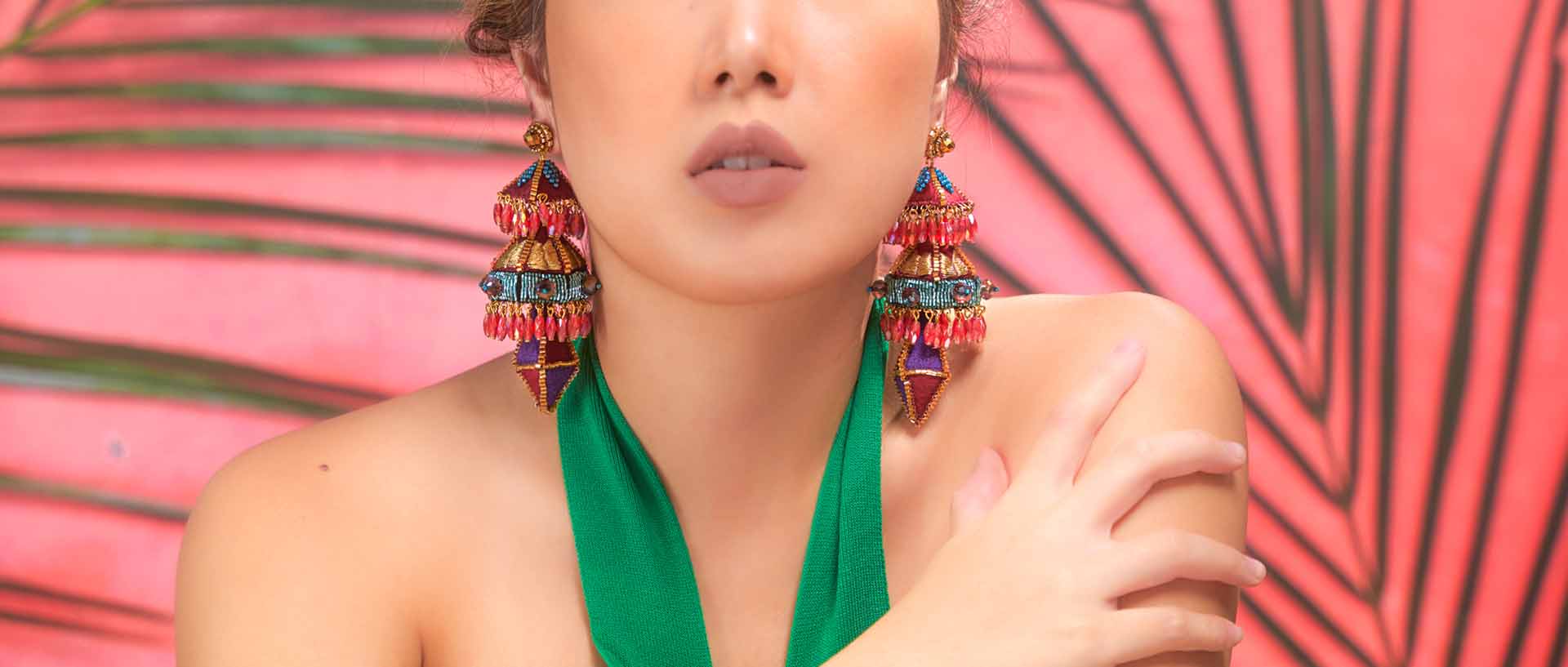 How do you wear statement earrings?
Add Personality To A Simple Outfit

Style Your Hair

Wear Them With Bold Outfits

Go Neutral

Make Your Statement Earrings The Star Of The Show

Channel Your Makeup Skills
Want to make a fashion statement or add some flare to your outfits? At first, you might be thinking of putting on a bold red lip or 5-inch heels. But, did you know that you can dress to impress by simply using earrings? Back in the day, Egyptians and Romans used statement jewelry to channel their royalty. Up until today, statement earrings continue to be a hot jewelry trend and are a huge asset to the fashion industry. Learning how to wear statement earrings properly will come in handy for you. Today, we'll teach you how! Here are some of the best ways you can wear your statement earrings.
Add Personality To A Simple Outfit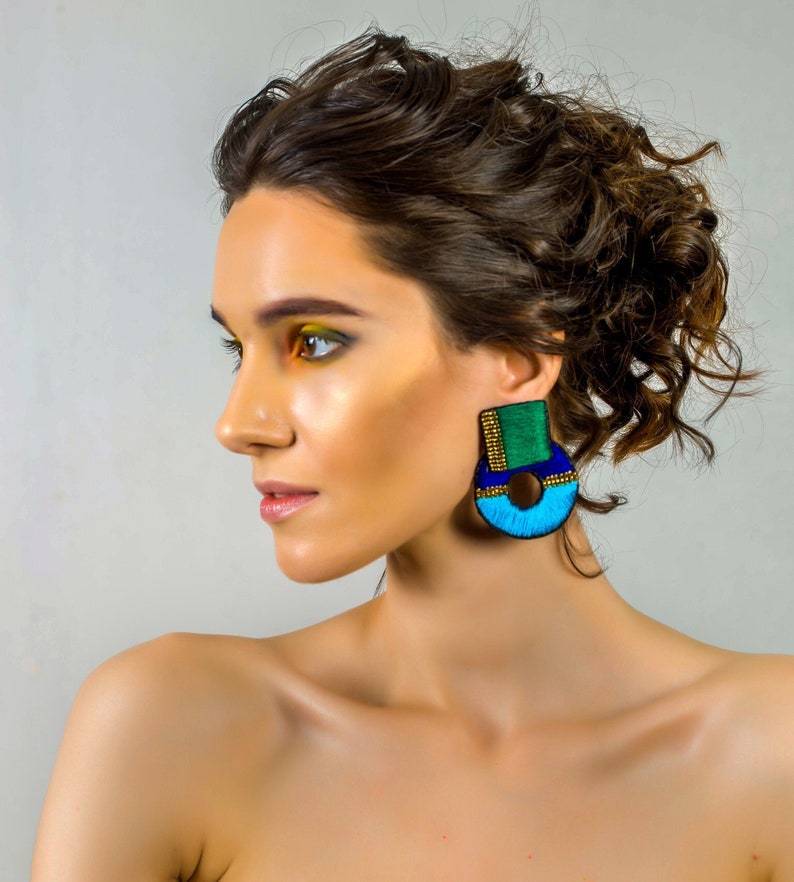 If you don't have a knack for fashion, don't fret. Statement earrings are for all kinds of individuals. They might just save the day when you don't know what to wear. Statement earrings can instantly boost any outfit. Think of it as a cherry on top! Let's say you're wearing a simple white shirt and jeans. To make the outfit put together, you can pair it with these Disc Blue Green Earrings. It will give you a pop of color.
Style Your Hair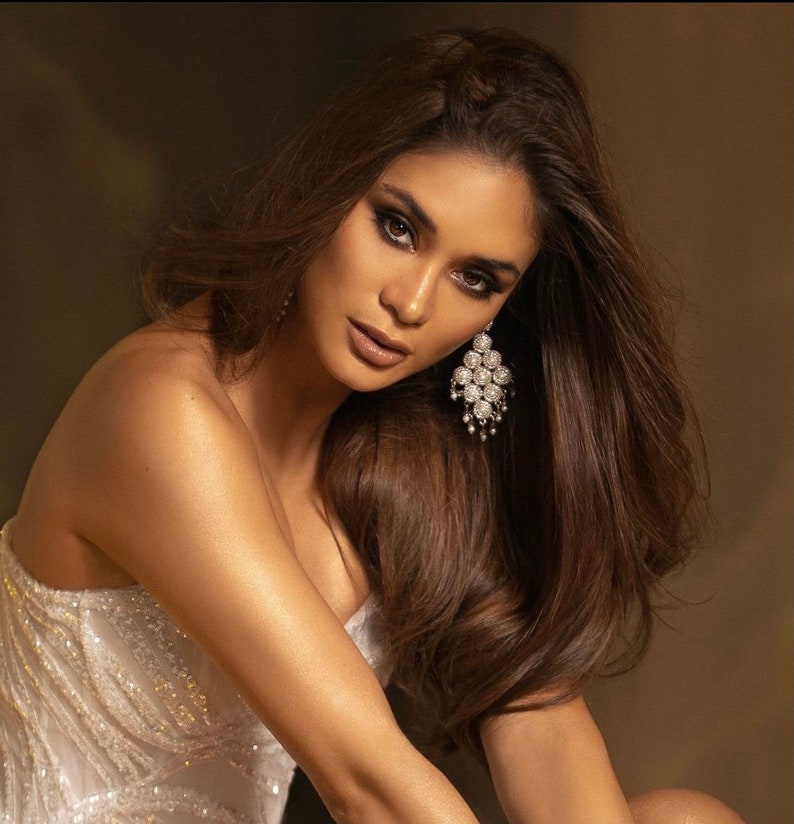 Sometimes all you need to showcase a good statement earring is a great hairdo. Putting some effort into your hair will make all the difference. Running late? You can wear statement earrings like the Colorful Peacock Earrings with a low messy bun for an effortless on-the-go look. No one will even notice you were scrambling for time!
If you have a hair straightener, you can style a slick-straight hairdo with one side tucked behind an ear. Then, wear a statement earring like the Mermaid's Tears to complete the look. For chic and formal affairs, grab a hair curler and make a low up-do and wear these Pearl Diamond earrings for a Marilyn Monroe-inspired look.
Wear Them With Bold Outfits
Just because statement earrings are big and bold, doesn't mean you can't go all out with your outfits. It's all about balance! For example, you're wearing a bright red top. Pair it with a red statement earring like the Red Flower Garden!
If you're going for a patterned outfit, match your statement earrings with a color from your top. You'll look fun and fresh.
Go Neutral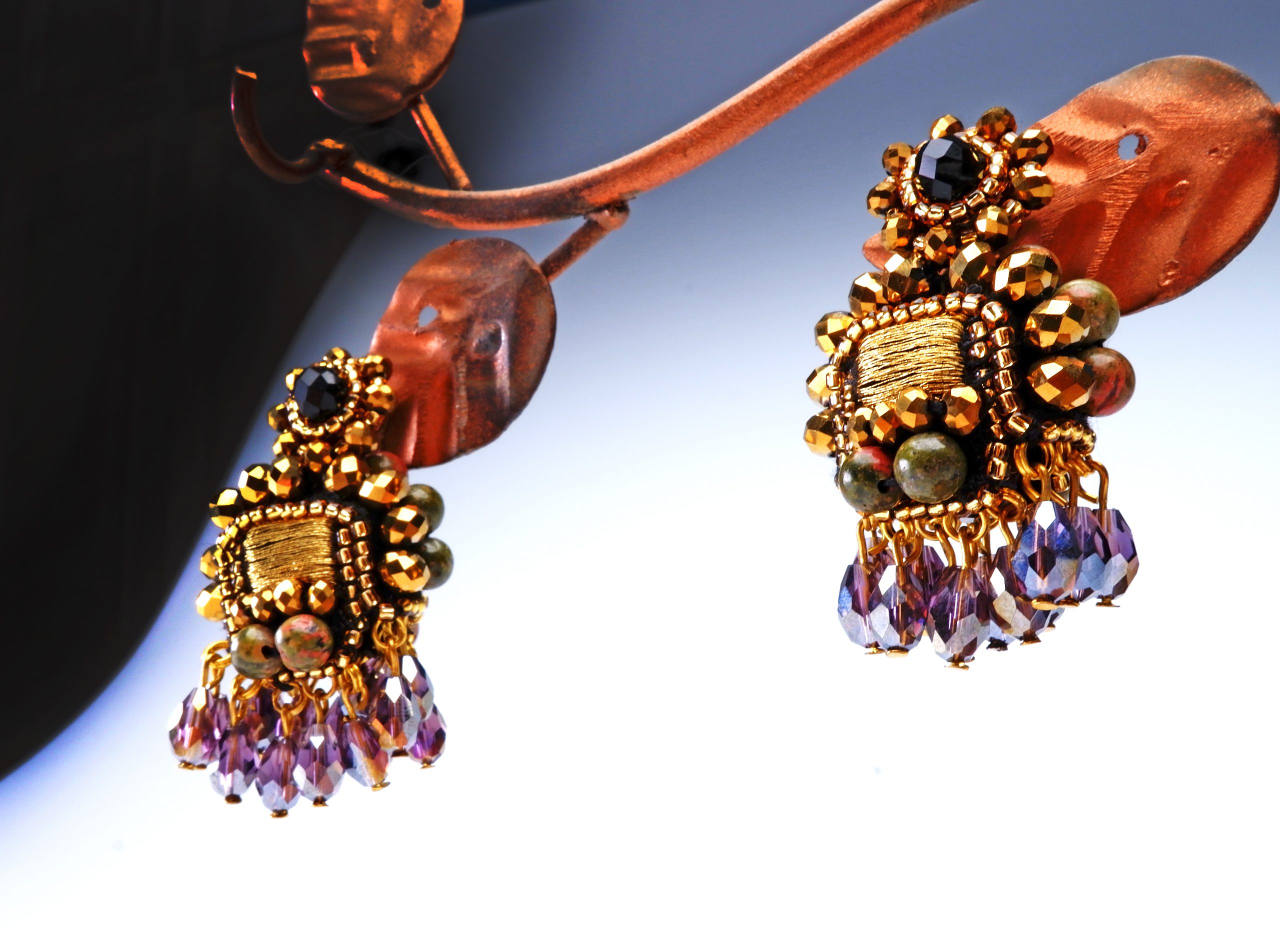 When you think of statement earrings, it's easy to think of big and dangly pieces. However, this isn't always the case. Statement earrings can be hoops, studs, or smaller than usual. What matters is that they are focal pieces and showcase-worthy.
For instance, these gorgeous Foggin' Up The Windows from Flutter Statement Jewelry aren't as large as most statement earrings, but they can shine on their own. What's more, they are handmade, made to order, and crafted with bronze and citrine gemstones. It's a great investment piece to flaunt!
Make Your Statement Earrings The Star Of The Show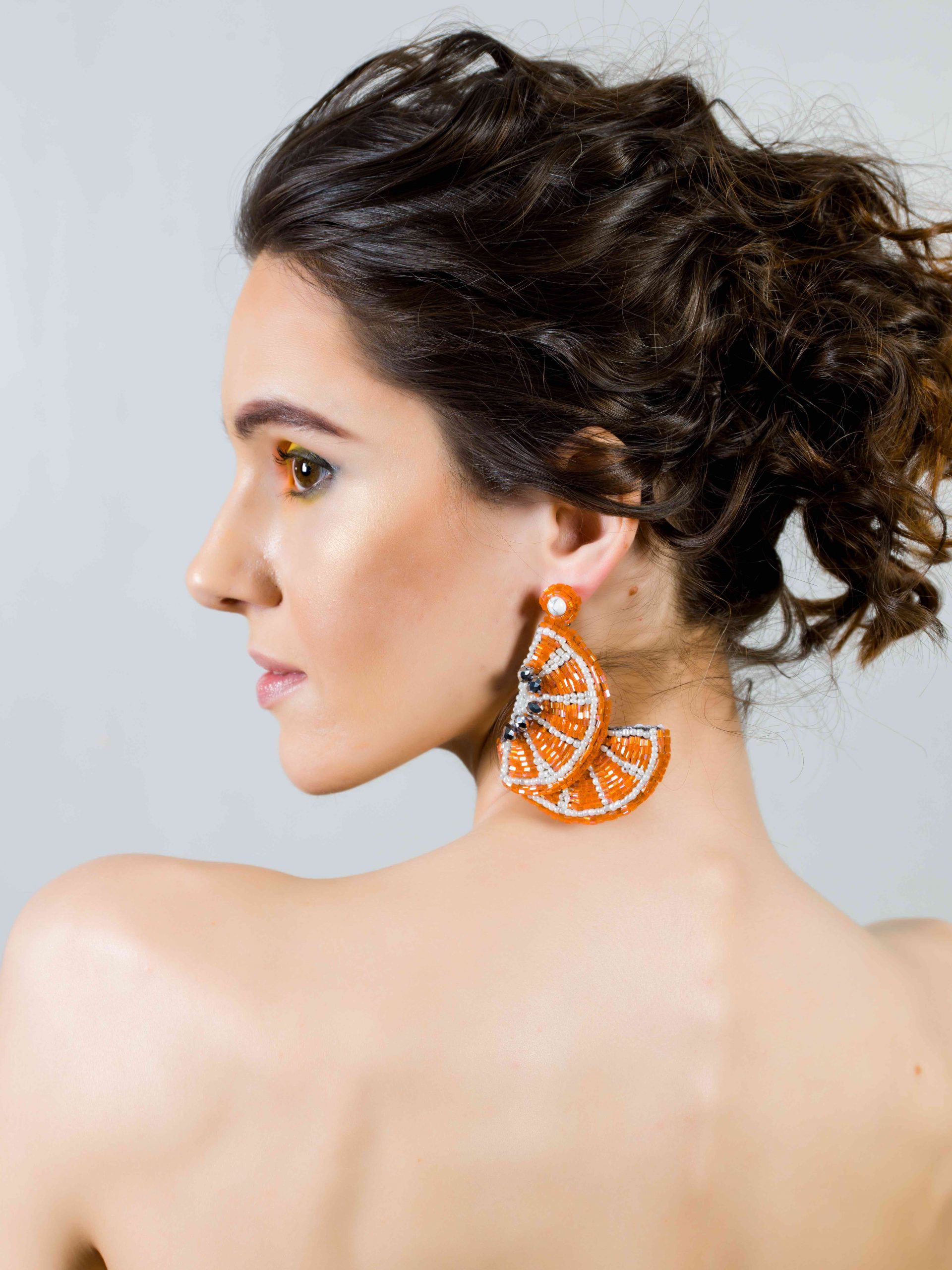 Speaking of flaunting jewelry — put your earrings in the spotlight! It's not every day that you see someone wearing an Orange Slice or Watermelon statement earring. So, be a fashion statement yourself! Don't be afraid to be unique. Have fun with your statement earrings and let your personality shine.
Channel Your Makeup Skills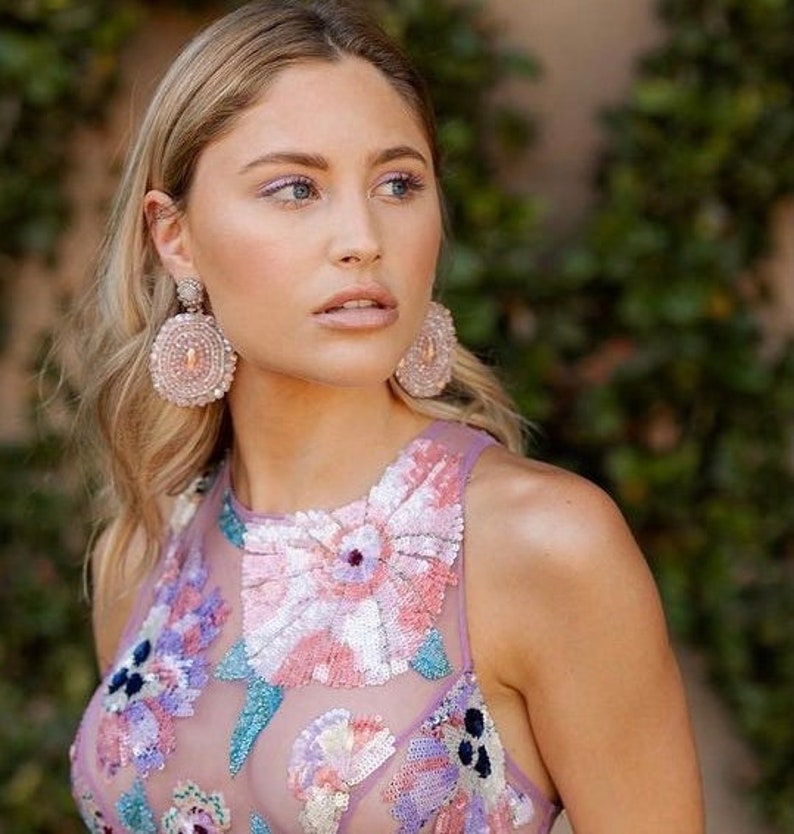 If you love getting creative with your makeup, statement earrings will make your overall look one-of-a-kind. With so many designs to choose from, you won't get tired of experimenting! Channel your inner makeup artist and stylist, and have fun mixing and matching different earrings with your make-up.
A bold and vibrant red lip can be complimented with these Gold Flower Garden earrings. Want to go for that clean and dewy editorial look? These Pink Balloon retro earrings are the epitome of classy. Going for blue eyeshadow? This pair of Blue Flower Garden earrings will make you look like royalty. Don't forget to take pictures, too!
Key Takeaway
Now that you know how to wear statement earrings, go ahead and get creative with your looks. Whether you're going to work or having a girl's night out, a pair of statement earrings will help you shine and look glamorous.
Ultimately, the meaning behind statement earrings is to showcase your personality, create a focal point, and incorporate excitement. Styling your outfits is a journey, and that's what makes fashion so fun. 
These exquisite, one-of-a-kind trinkets are always artisanally handcrafted and made to order. With Flutter Statement Jewelry, you'll look your best with every outfit. You can wear a truly unique piece of jewelry that will be a showstopper wherever you wear it. Get handmade jewelry from the Philippines here at Flutter Statement Jewelry today! Click here to get started!
Make your Design Happen
Provide us your email and we'll send you a quote and instructions on how