You have not viewed any product yet!
Select Currency
FOX v.1.4.1.1
+
6 Best Luxury Body Chains You Can Buy Online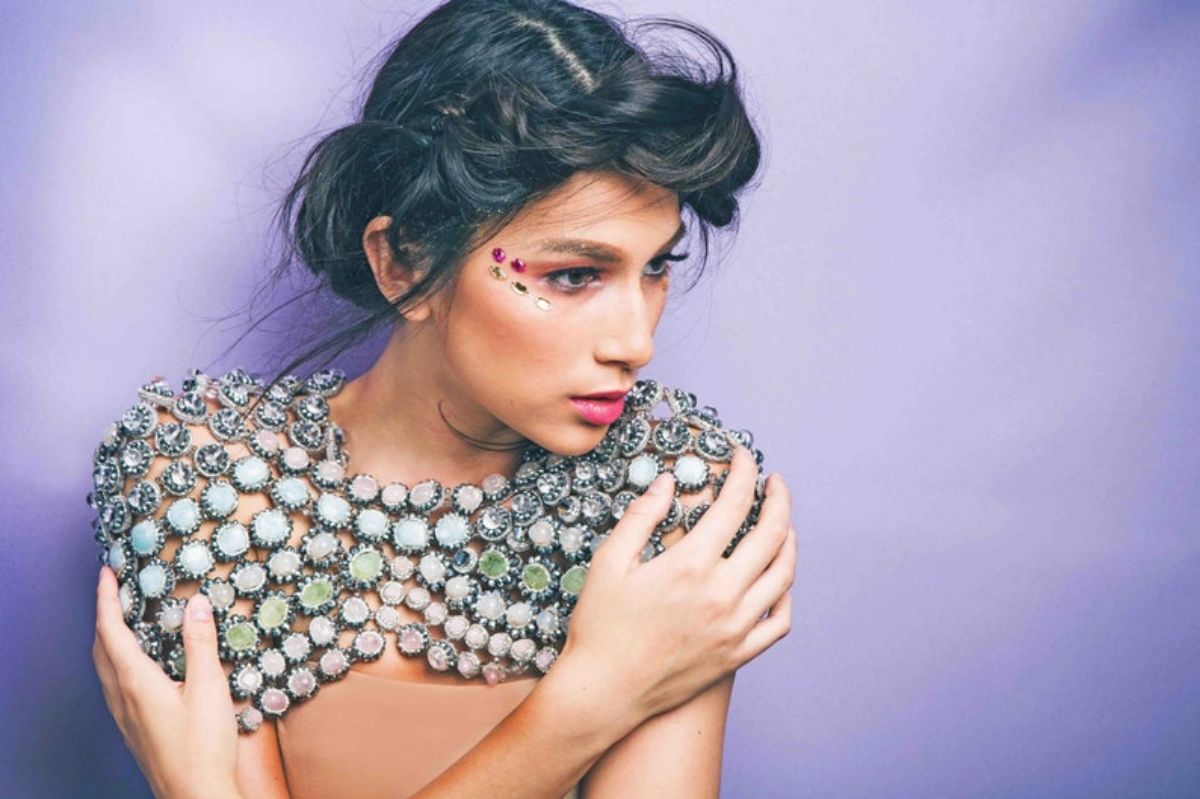 What are the best luxury body chains you can buy online?
Gold Pixie Shoulder Necklace

Gold Fetish Body Belt

Sexy Warrior Body Belt 

Elektra Jewelry Vest

Gold Fireflies Body Belt

Material Girl Shoulder Necklace
Luxury body chains are sought out for a variety of reasons. For one, they're made with exceptional materials and handled by skilled craftsmen. Body chains or statement body jewelry accentuate your curves and enhance your outfits. These accessories are also great gifts for special occasions — whether it's an engagement, anniversary, or Valentine's Day. Celebrities wear them for music videos, movies, fashion shows, and magazines. If you're looking for some pieces to add to your collection, here are the 6 best luxury body chains you can purchase online!
Gold Pixie Shoulder Necklace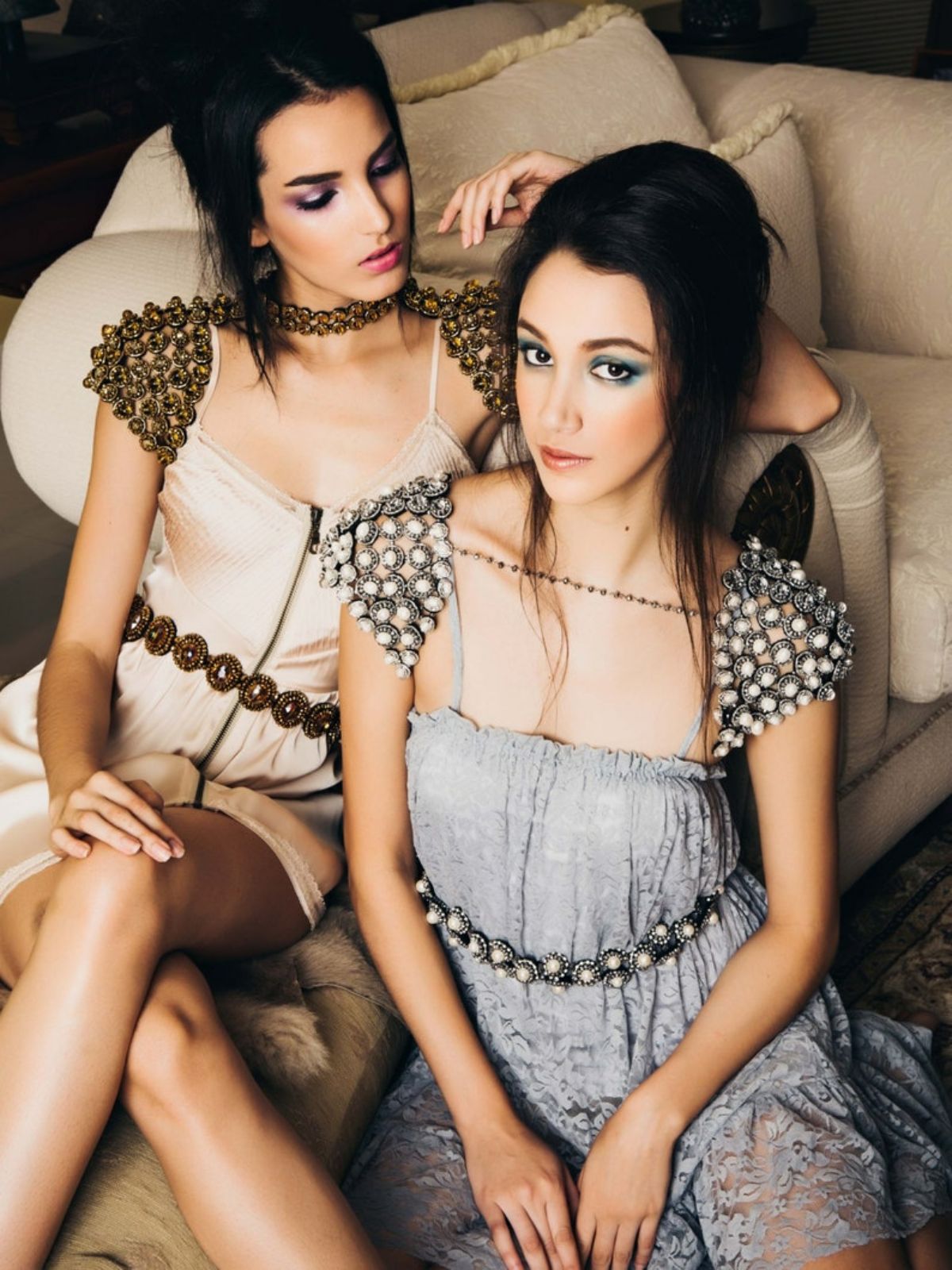 Become the center of attention at your engagement party and wedding reception if you wear the Gold Pixie Shoulder Necklace from Flutter. Hand-made with white pearls, silver abacus crystals, and lucite glass beads, this luxurious body jewelry will help you shine and sparkle on your special day.
The shoulder jewelry will sit comfortably on your shoulder caps, adorning your formal gowns and dresses. Pair it with the right outfit, and you can also use it for a night out with friends. If you're looking for something more casual, you can put it on a simple top and skinny jeans too!
Gold Fetish Body Belt
Gold is a sign of luxury and wealth. That's why if you're looking for body chains, you won't go wrong with the Flutter Gold Fetish Body Belt. Handcrafted with golden yellow twist crystals, gold premium Japanese beads, gold fire flashed crystals, and citrine stones, this luxurious body belt is made to show the sexual appeal of the female body.
Wear it with a body-fitting dress to show your beautiful curves and feminine appeal. It also pairs well with flowy garments and is the perfect choice when going on a night out for some cocktail drinks.
Sexy Warrior Body Belt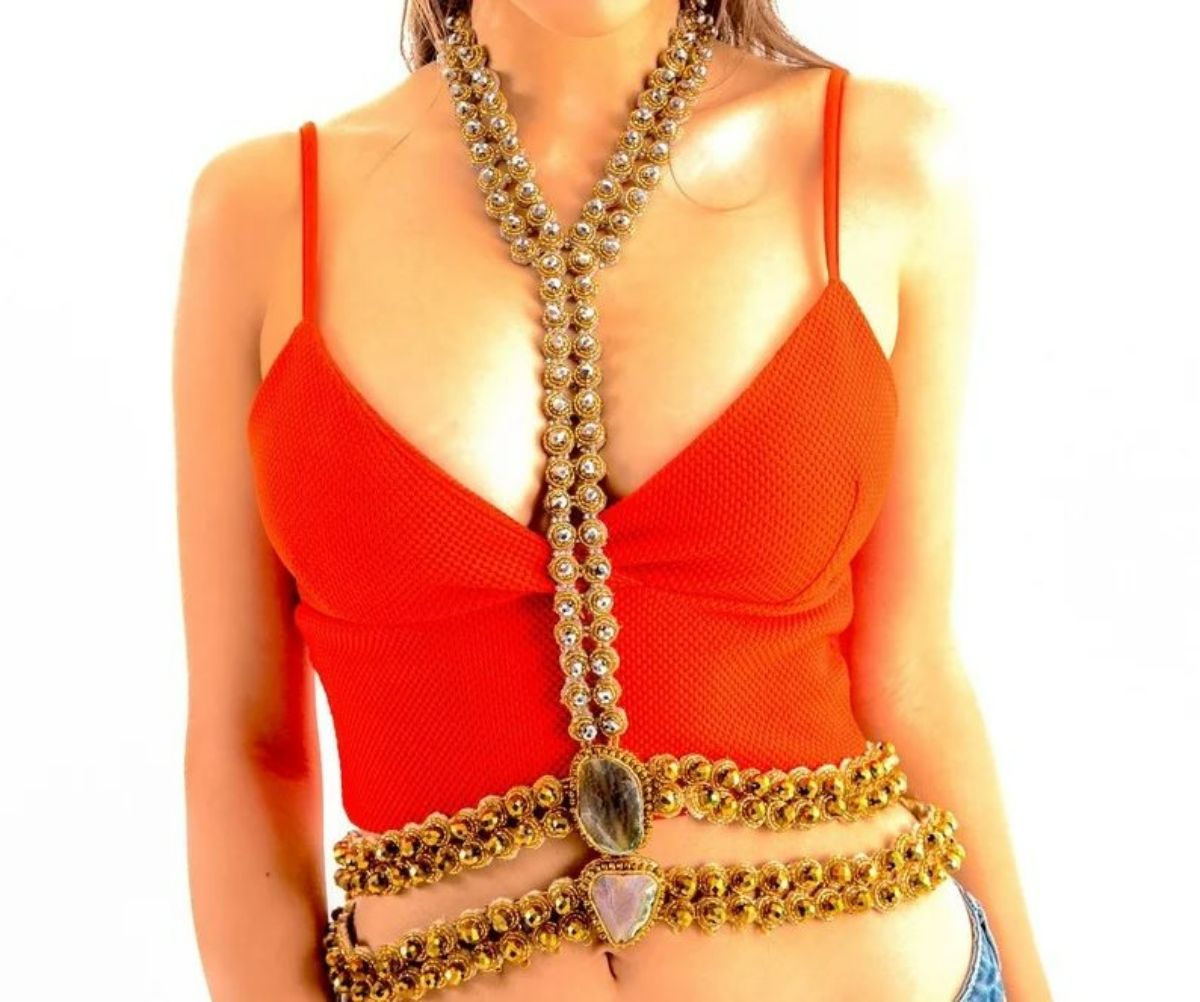 Adorn your formal gowns with the luxurious and sexy double body belt made with silver and gold fire flash polished crystals, gold Japanese beads, and two flat purple fire agate stones. Be the center of attention at any event with the Sexy Warrior Body Belt. 
This bejeweled body chain can add sultriness and a unique vibe whether you wear it with formal dresses or a casual top and jeans. To make it shine, you can put it on top of a solid-colored outfit — such as black or white! It can add a touch of luxury to even the simplest clothes.
Elektra Jewelry Vest
Handcrafted by skilled Filipina jewelry makers, the Elektra Jewelry Vest is adorned with clear lucite glass beads, gray abacus crystals, gray agate nugget stones, silver fire flash polished crystals, and Japanese beads. The black and gray combination of jewels can pair well with a wide variety of outfits.
Make your long gowns more sophisticated and classy with this body chain. Put it on top of your crop top or halter dress for embellishment, and it's certain to catch the attention of the crowd.
Gold Fireflies Body Belt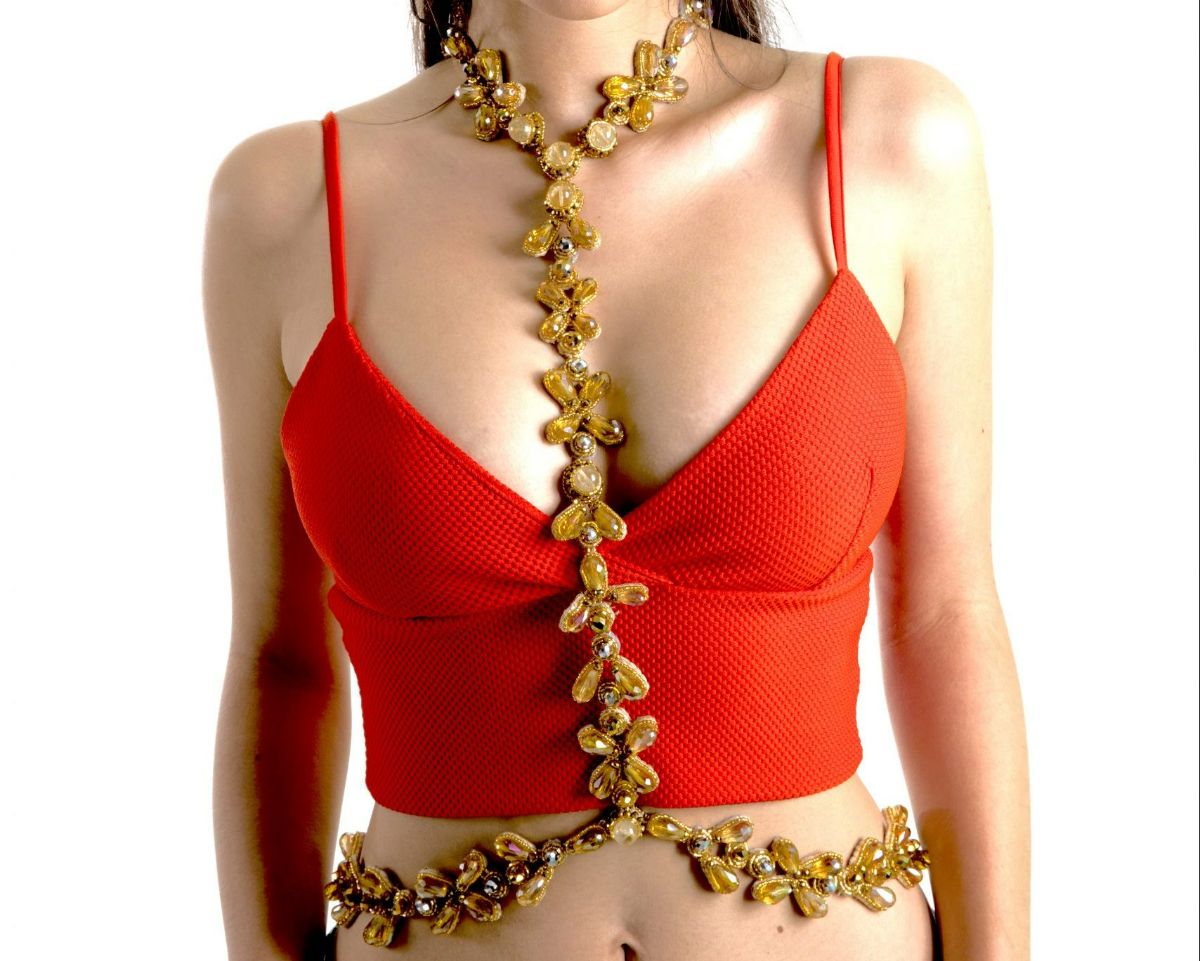 Another luxury piece from Flutter, the Gold Fireflies Body Belt is inspired by fireflies that are known to glow and flutter when it's nighttime. This statement piece is expertly beaded with gold teardrop crystals, gold Japanese beads, round citrine stones, and fire flash polished crystals. The distinct characteristic of this creative body belt is the teardrop-shaped crystals that will adorn your neck, chest, and waist.
Just like a firefly, you can glow when wearing this luxurious piece. Pair it with a body-hugging crop top, turtle-neck top, or tube dress for a unique but ultra-chic look. 
Material Girl Shoulder Necklace
When you think of luxury, you will agree that the Material Girl Shoulder Necklace embodies its meaning. This shoulder jewelry is studded with gold Japanese Matsuno beads, citrine stones, glass beads, and fire flash polished crystals. With golden fringes that sway and dance around as you move, it adds an element of seduction to your overall outfit.
Wear this luxury body chain for performances or party nights with friends. As you dance to the beat, the beaded fringes will move with you. Feel like a celebrity dancer performing on stage as you dance your heart out. Because this jewelry piece makes a bold statement, you can pair it with more simple and neutral outfits.
Key Takeaway
Here at Flutter, we have made luxury body chains more accessible to you. Shop from the comforts of your home by ordering our expertly handcrafted pieces here at the website! Our jewelry pieces are all crafted by hand, with materials that are sourced individually. They are designed by Katrina Ong with the assistance of her team of Filipina women. You can wear them for special occasions, give them to a loved one, or add them to your collection of luxurious jewelry.
If you're interested, we also make statement necklaces, earrings, and bracelets that can add a luxurious vibe to your outfits. Because they're handcrafted, you won't find them easily in any other place. View our statement body jewelry collections here today!
Make your Design Happen
Provide us your email and we'll send you a quote and instructions on how