You have not viewed any product yet!
Select Currency
FOX v.1.4.1.1
+
6 Stylish Body Chain Jewelry That Can Enhance Your Outfit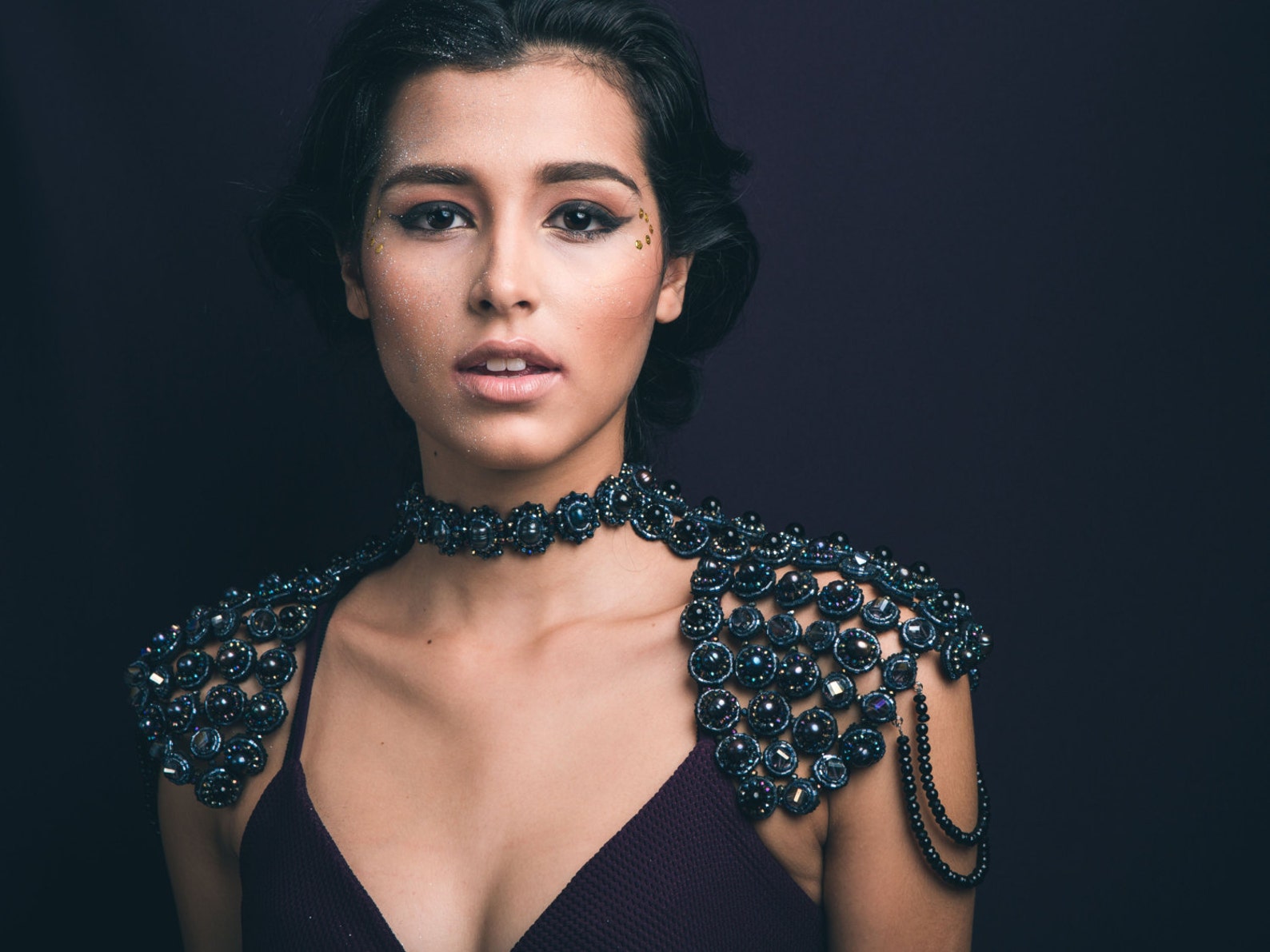 What are the body chain jewelry pieces that can enhance your outfit?
Gold Flirt Body Belt

Black Vamp Body Belt

Boyfriend Suspenders Body Belt

Elektra Jewelry Vest

Barbie Jewelry Vest

Gold Sling Bralette
Body chains are one of the most creative jewelry options that can help enhance your outfit. These unique pieces can instantly bring your attire from simple to extraordinary or casual to formal. It's a wonder how a piece can both look delicate and eye-catching, with the ability to highlight your features — including your neck, chest, torso, and back. That's why if you want to make a statement, you should consider incorporating these stylish body chain jewelry into your wardrobe! Keep on reading for some recommendations.
Gold Flirt Body Belt
The Foxy Vixen Collection was inspired by the world of couture that shows a woman's body and sexuality. All the pieces in the collection are made with hints of dominatrix and androgyny, not forgetting to express the naughty side of fashion. 
All of these are shown in the Gold Flirt Body Belt, which uses yellow crystals, glass beads, and round Howlite stones. The combination of the gold and white color expresses elegance while maintaining the sexy theme from the collection. If you're interested, this designer belt-slash-bralette is suitable for formal events, night-outs, and high-end fashion photoshoots!
Black Vamp Body Belt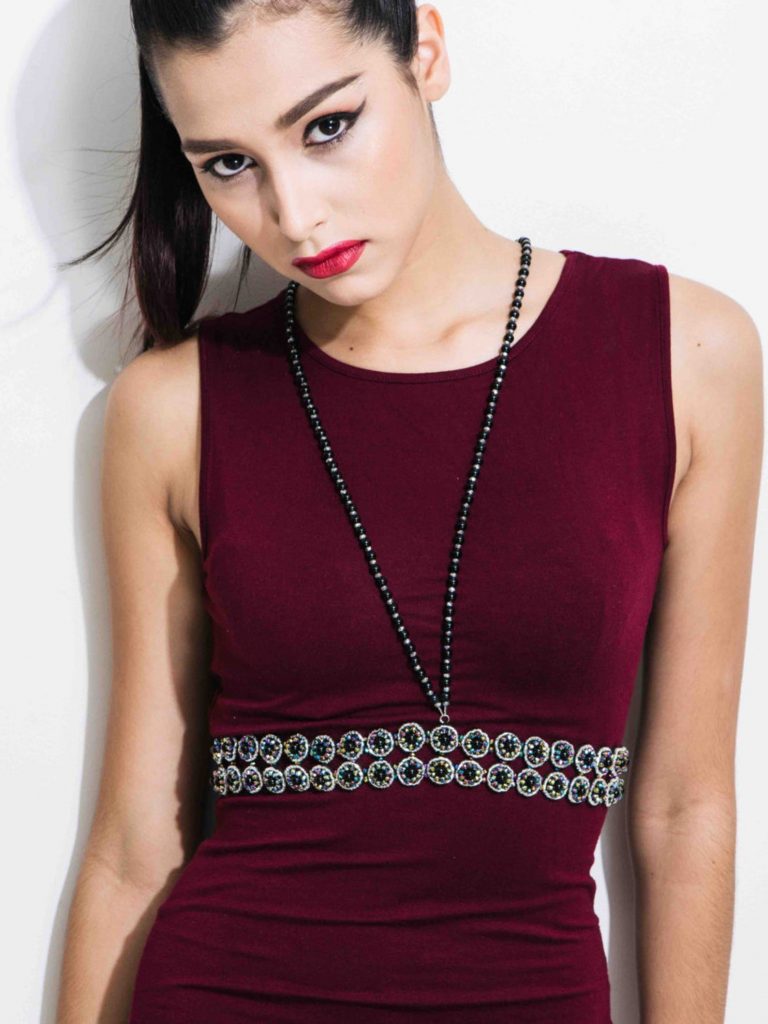 Body chains are known for their ability to imbibe a touch of allure, flirtatiousness, and charm to an outfit. They delicately sit on your curves to highlight your features and make a sexy statement. Especially so when the piece is from Flutter's Foxy Vixen Collection. 
The Black Vamp Body is a black halter bralette that is carefully handcrafted with black glass beads and round Onyx stones. This choice of materials can instantly convert a casual outfit into a formal one. For a more luxurious appeal, you can wear it on top of a solid-colored dress that hugs your body. But if you want a more masculine vibe, you can place it underneath your blazer to make a statement.
Boyfriend Suspenders Body Belt
If you're planning to wear a body-fitting dress, you can consider adding some bling and a hint of androgyny with the Boyfriend Suspenders Body Belt from Flutter. From the name itself, this body jewelry is inspired by the suspenders that men wore with their trousers. As such, you can also use this handcrafted jewelry when you're wearing a fitted top with shorts or pants. 
The Boyfriend Suspenders Body Belt is adorned with hand-embroidered white freshwater pearls, Japanese seed beads, and silver fire flash polished crystals. While the front looks more androgynous, the X design at the back adds a touch of sexiness to the jewelry. If you want to experiment, you can try wearing it with backless dresses!
Elektra Jewelry Vest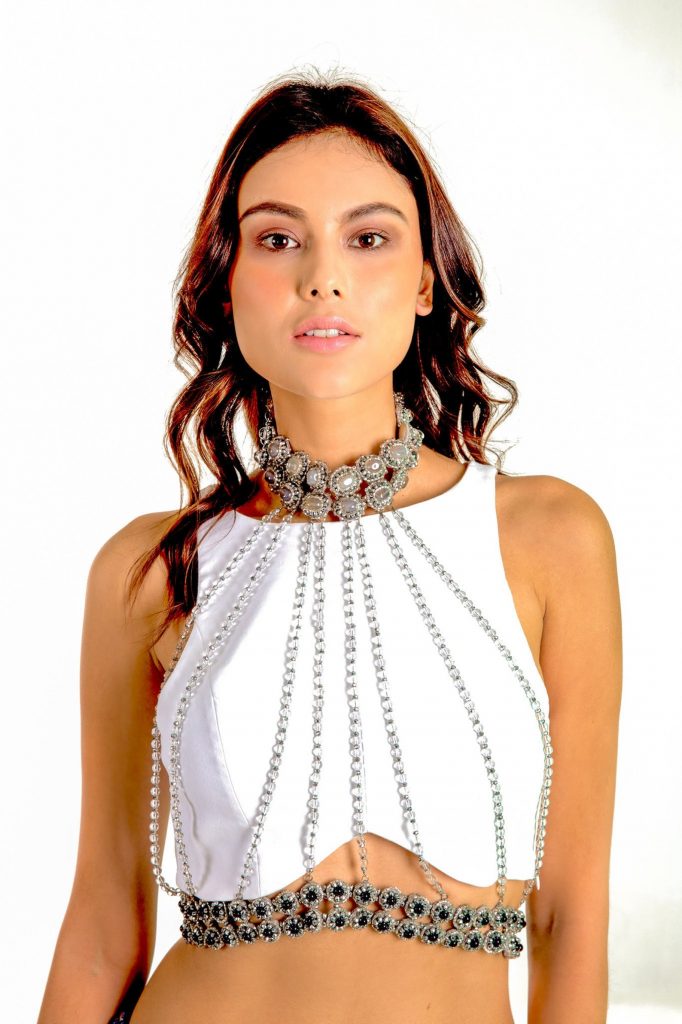 If you're wearing an outfit with a plunging v-shaped neckline, one of the best ways to spice it up is with the Elektra Jewelry Vest with crystals. Due to the halter design of the bralette and the hand-embroidered choker, attention is immediately brought to your neck and chest. Other than that, it also pairs well with a fitted crop top and a halter dress. 
This body chain jewelry is made of materials that express sophistication — including clear lucite glass beads, Japanese beads, silver fire flash polished crystals, grey agate nugget stones, and grey abacus crystals.
Barbie Jewelry Vest
While body chains are known for their ability to add a touch of spice to your outfit, they can also look soft and delicate. Just take a look at the Barbie Jewelry Vest, which has clear light pink glass beads, twisted glass crystals, clear lucite glass beads, rose quartz, pink opal, silver fire flash polished crystals, and baby pink rondelles. 
The materials used have a toned-down color, which makes the piece suitable for more feminine and pastel outfits. It will remind you not just of the popular doll, but also of fairies and pixies. When styling this piece, think tube tops, flowy dresses, and halter top necklines. 
Gold Sling Bralette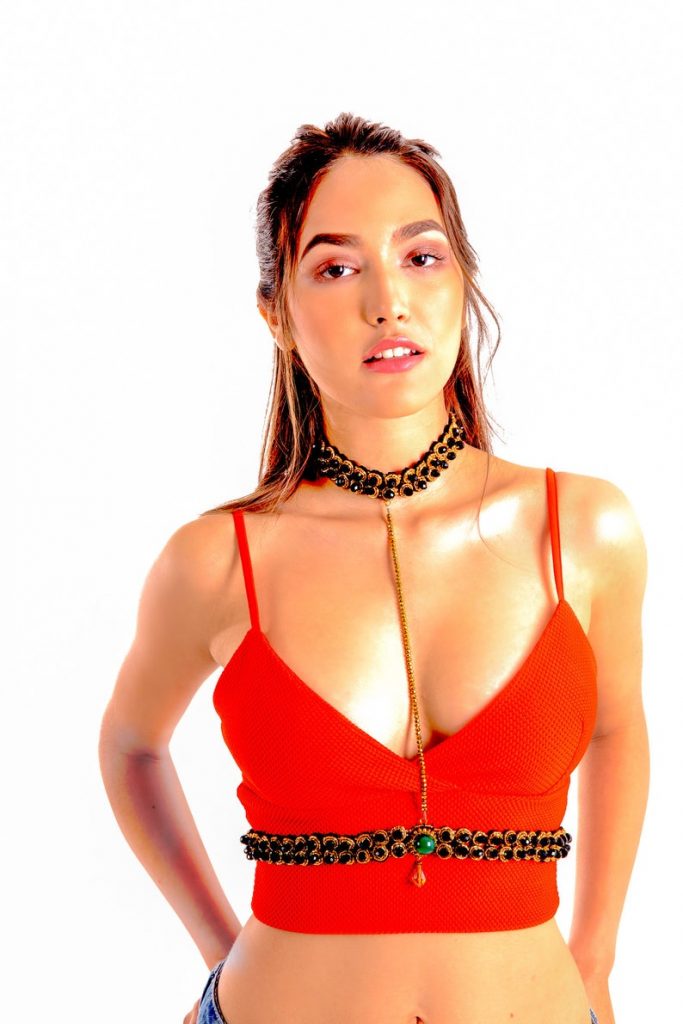 Are you planning an out-of-town trip to the beach soon? If that's the case, you will probably be taking plenty of photos. If you want to enhance the look of your bikinis, consider adding a beaded body necklace such as the Gold Sling Bralette from Flutter. 
The thin gold sling that goes over your chest will highlight your most feminine features while the black crystals and green onyx stone on the choker and belt will add a luxurious vibe to your beach outfit. Because this piece is versatile, you can also pair it with formal gowns, low-cut tops, or lingerie. 
Key Takeaway
From sexy, classy, or delicate — body chain jewelry comes in endless designs, colors, and themes, which means that you can achieve a variety of looks if you style it right. This type of jewelry is a rare sight compared to necklaces, earrings, or bracelets, so it can instantly make you the center of attention wherever you go. 
If you're interested in statement body jewelry, you can send us a message here at Flutter Statement Jewelry! 
Make your Design Happen
Provide us your email and we'll send you a quote and instructions on how