You have not viewed any product yet!
Select Currency
FOX v.1.4.1.1
+
6 Beaded Statement Necklaces To Wear To The Beach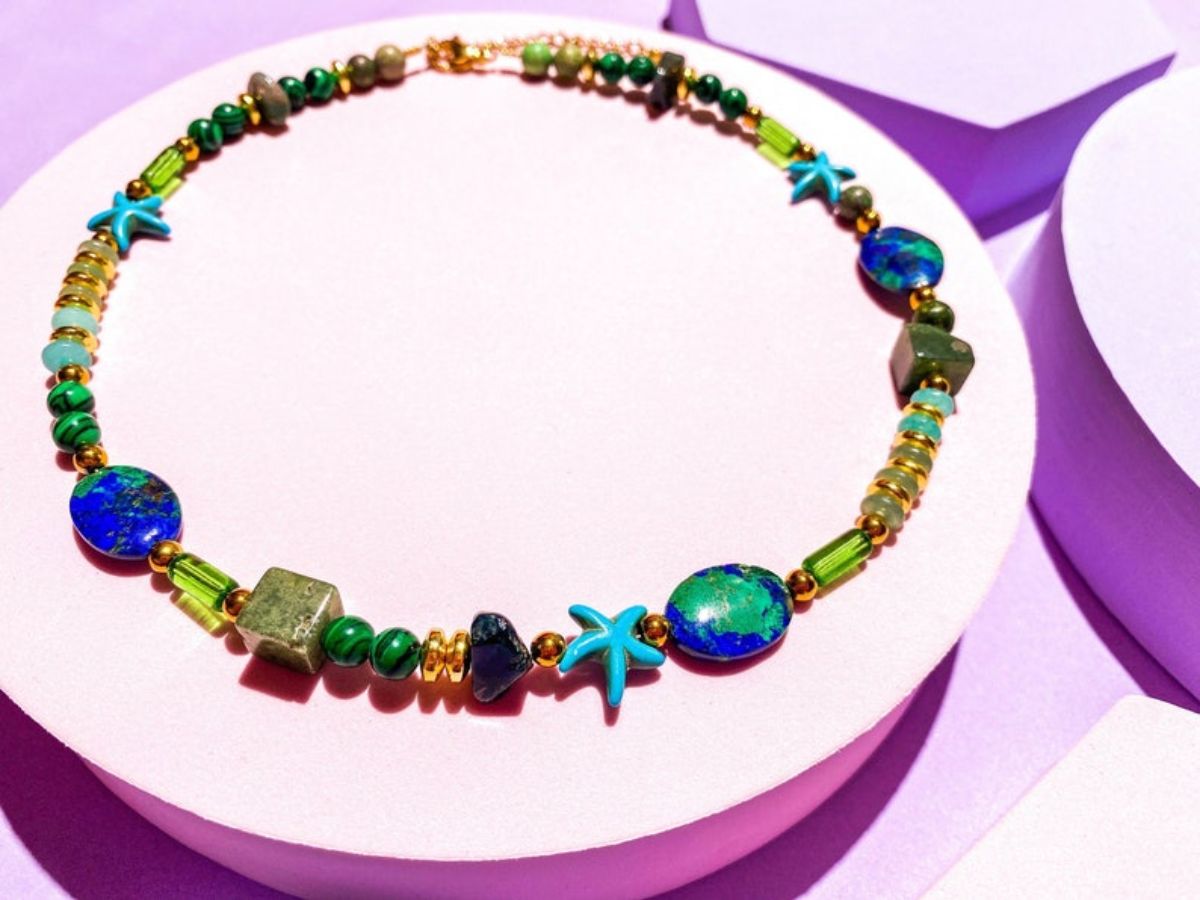 What are beaded statement necklaces to wear to the beach? 
Atlantis

Gold Cleo Statement Necklace

Foxy Turquoise

Aloha Pearls

Juju

Aqua Girl
It's fun to dress up for a vacation, especially on beach trips, when you'll be relaxing for hours under the sun. You probably have the essentials packed: your, swimsuit, beach towel, sunscreen, and sunglasses. But, how about your accessories? Make a statement and say you're on a holiday by bringing some beaded statement necklaces to wear to the beach. You'll look like you're in paradise with a few beaded necklaces hanging on your neck as you sip margaritas during your vacation!
Anyway, vacations are the perfect excuse to look a little bit extra. Spice up your maxi dresses, swimsuits, and tank tops with some of our jewelry pieces here at Flutter. Keep on reading! 
An ode to the mythical sunken city, Atlantis is a green and blue beaded necklace filled with accents of the ocean's colors. Its highlight is the turquoise starfish spread throughout the piece. 
Throw this on when with your flowy white linen dresses to make your outfit stand out. The starfish will bring out your inner island girl, but it can jazz up a classical nautical outfit too. Add a bit of color to the classic striped tops and shorts usually associated with the nautical trend. It'll make the look stand out even more.  
Here's a way to make a real statement. Pair Flutter's Gold Cleo Statement necklace with a classic white halter dress or any plain maxi dress. This gold, Egyptian-style collar necklace will make you feel like royalty while on vacation. 
The necklace is hand-embroidered with Indian beads, gold fire flash polished crystals and gold Japanese beads. With this around your neck, you'll feel as elegant as the famous Cleopatra herself. 
Since this piece is handcrafted and made-to-order, some of the stones and threads may vary depending on what's in season. 
For those who want to be subtle with their statement necklaces, try wearing the Foxy Turquoise beaded necklace. It gives your outfit a little bit of oomph with its subtle pop of color. 
This necklace stands out thanks to its man-made turquoise that contrast the pink, onyx, and golden beads. 
Imagine adorning your neck with this dainty piece and long golden chain necklaces for a more elegant touch. It makes it easy to have on from day to night as you stroll through beaches, restaurants, and even a few clubs.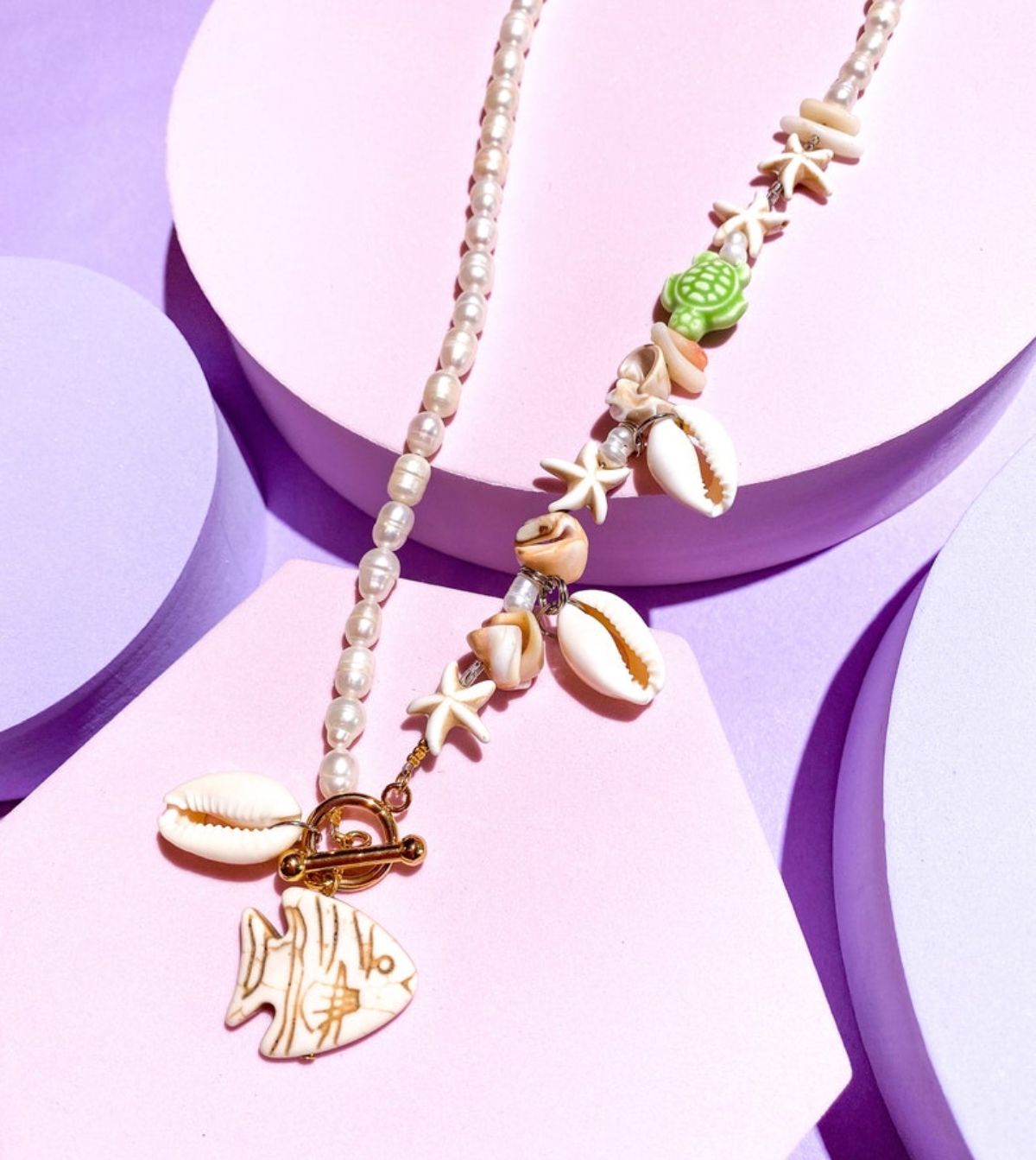 With tanned skin, sand in between your toes, and natural sea salt in your hair, it's time to channel your inner beach babe. It only takes an accessory to unleash that island girl in you.
The Aloha Pearls necklace screams beach babe with its cowrie shells, howlite starfish, seashells, and white freshwater pearls. It's even adorned with a retro howlite fish pendant and porcelain tortoise, making you feel one with the ocean's animals. 
This tribal pearl necklace goes well with classic beach linens. It'll make you feel like you belong with the sand, sea, and ocean. 
For days when you're just sporting a simple swimsuit, accessorize with a longer beaded necklace. The Juju necklace gives an African tribal accent that also goes well with beach clothing. 
You don't need to worry about looking too plain in your basic white tees, swimsuits, and tops with a touch of color. It's filled with colorful beads of blue malachite, rose gold mineral beads, and clay beads. You can also pair this with gold chain chokers to create an elegant statement piece. 
If you want to make a bigger statement, you can also pair the Juju necklace with fun beaded pieces. Flutter's Psychedelic and Speed Racer necklace can make the perfect trio. The three necklaces make a fun and hip combination for your beach outfit.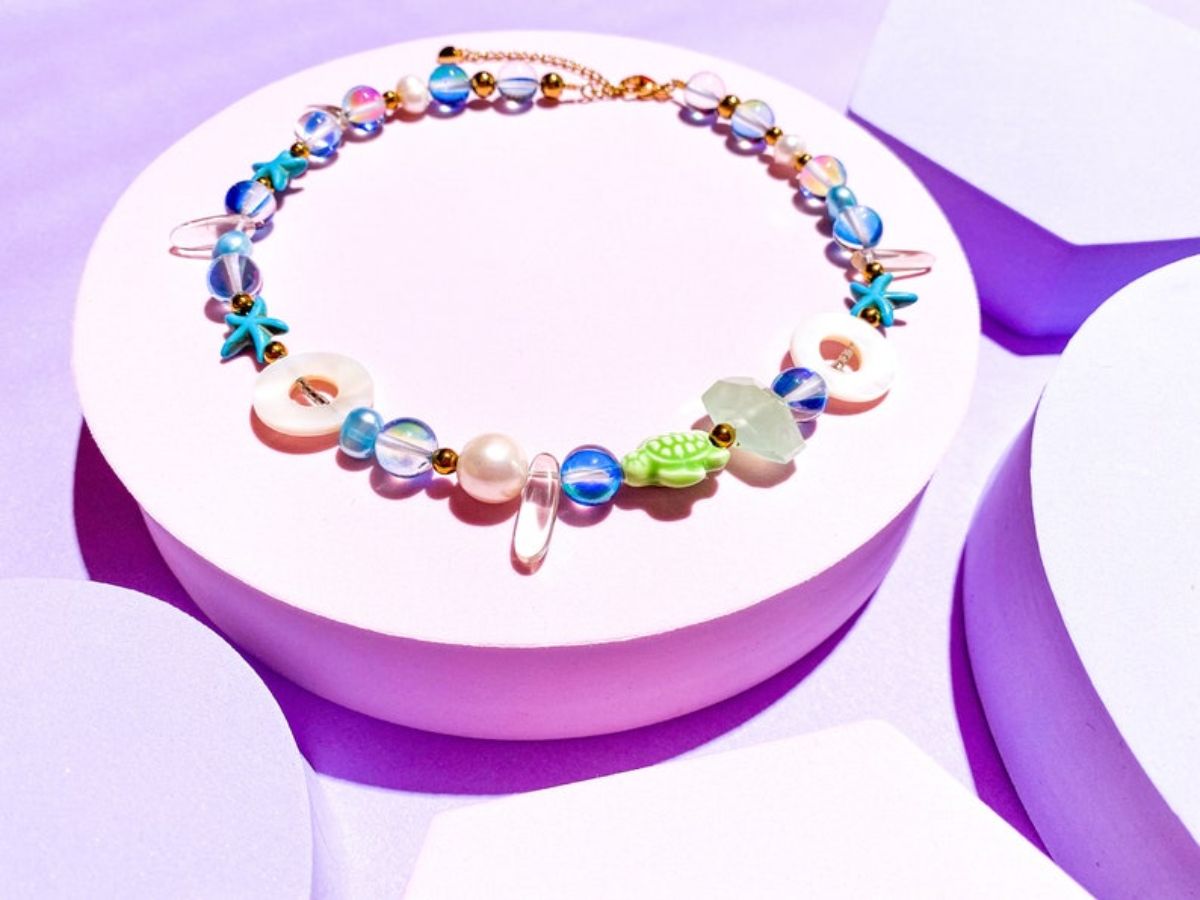 You may not be able to have fins and a seashell bra like Ariel, but you can still embrace your inner mermaid with Flutter's Aqua Girl necklace. 
This necklace pairs well with lighter tops and dresses. It'll also compliment whites, nudes, and pastel colors. The beads have a subtle splash of color with the aquamarine beads accented by the mother of pearl rings. 
The mix of freshwater pearls and blue mermaid glass beads gives a mesmerizing effect, best seen when worn under the sun. 
Key Takeaway
Nothing is stopping you from bringing beaded statement necklaces to wear to the beach. Take this time to have fun with your outfits, too. There are many options for you to choose from  – from ocean-inspired, island girl, mermaid vibes, and more!
If you're looking for high-quality hand-made statement necklaces, you can check out our shop here at Flutter. All our statement necklaces and designs here are carefully handcrafted with love.
Make your Design Happen
Provide us your email and we'll send you a quote and instructions on how