You have not viewed any product yet!
Select Currency
FOX v.1.4.1.1
+
How to Wear Statement Choker Necklaces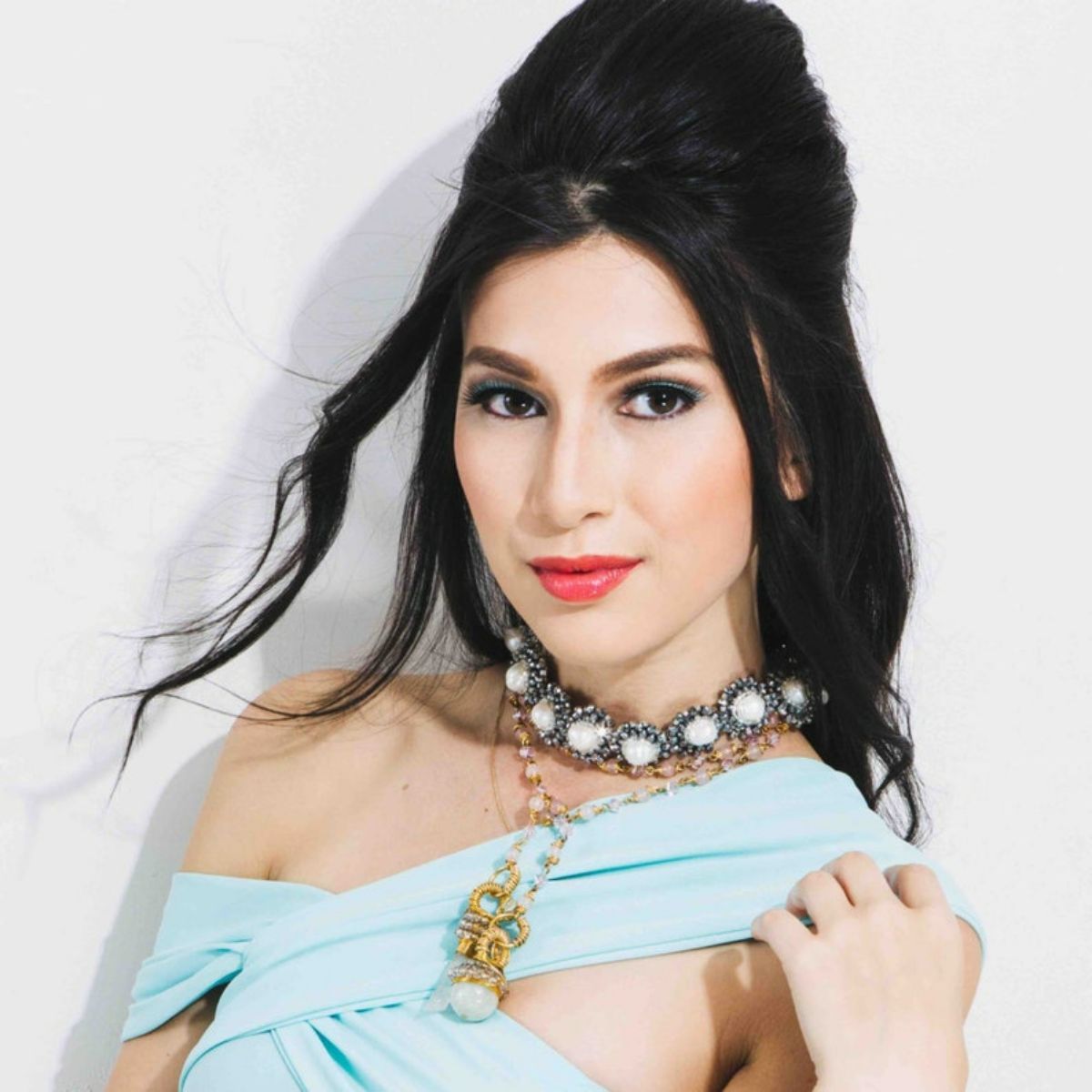 How do I wear statement choker necklaces? 
Always consider your neckline

Keep things balanced

Don't be scared to experiment

Never over accessorize
A choker is a piece of jewelry that has never gone out of style. It goes way back to Ancient Egypt and Mesopotamia when kings and queens would wear them for safety and power. Today, in the 21st century, it is a powerful accessory used as the focal point of many looks on the runway and in everyday life. 
It can be difficult to figure out how to wear statement choker necklaces. This article offers many tips and tricks to get you comfortable with the classic necklace style that you can use for any occasion. 
Always consider your neckline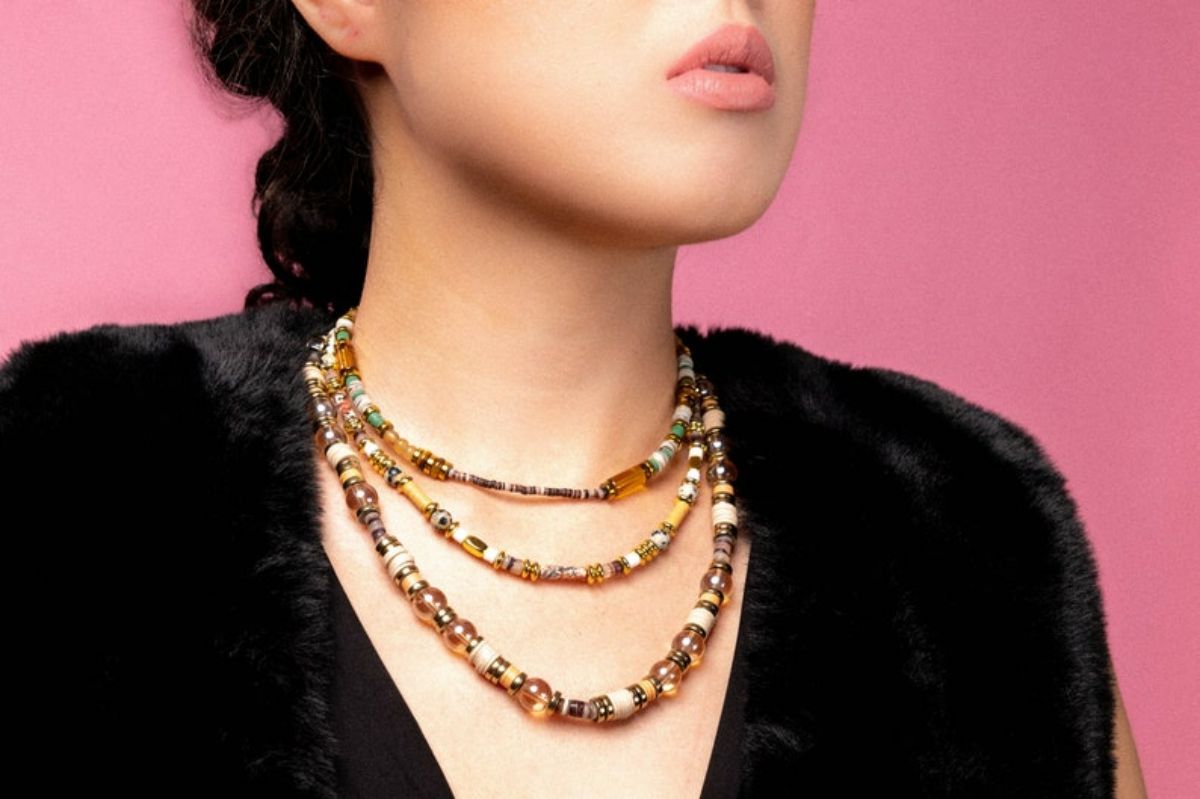 Just like other statement necklaces, it's essential to factor in the neckline of your dress or top. Certain necklines allow your wide choker necklaces to shine! These are your strapless, venus cuts, v-neck, and off-shoulder tops. The exposed skin you get from these allows the entire look to look less stuffy, creating balance to the look's silhouette.
Take note of this when you wear Flutter's Stage Lights Gold Choker. This hand-made golden choker made with gold fire polished crystals and gold Japanese beads will shine with a strapless top. All eyes will be drawn to the golden beads with the correct neckline. 
On the other hand, when you don a slimmer choker like the Flintstones choker, you can wear higher necklines like boat necks and crew necks.
Another tidbit to consider when with your necklines is their color. To create a cohesive look, why not match your necklace to the neckline of your clothes? When wearing an orange or red neckline, pair it with the Fluoro statement necklace. It easily makes the look cohesive yet elegant. 
Keep things balanced
Even with the many ways to style a choker, it's still important to keep in mind that it's meant to be the focal point of your entire look. 
Think about it this way: your neck is the extension of your face that is connected to your torso. So, all eyes are drawn to it when you have accessories on, making it a focal point. 
With attention-grabbing chokers like Flutter's White Tulips, make sure to pair them with small and simple earrings. Even if it looks like a simple choker with freshwater pearls, the frosted lucite tulips make it stand out more! So, pair this with simple earrings to draw attention to this beautiful piece. 
However, if you have multiple earrings on each ear, try to use studs and short drop earrings. Since the ears and neck are near each other, it may look overcrowded if you wear statement pieces in both areas. 
To balance your earrings and necklaces, match their base metals to create a unified look. So when you wear a statement necklace like the Old Hollywood Choker, choose simple silver studs for your earrings. 
Don't be scared to experiment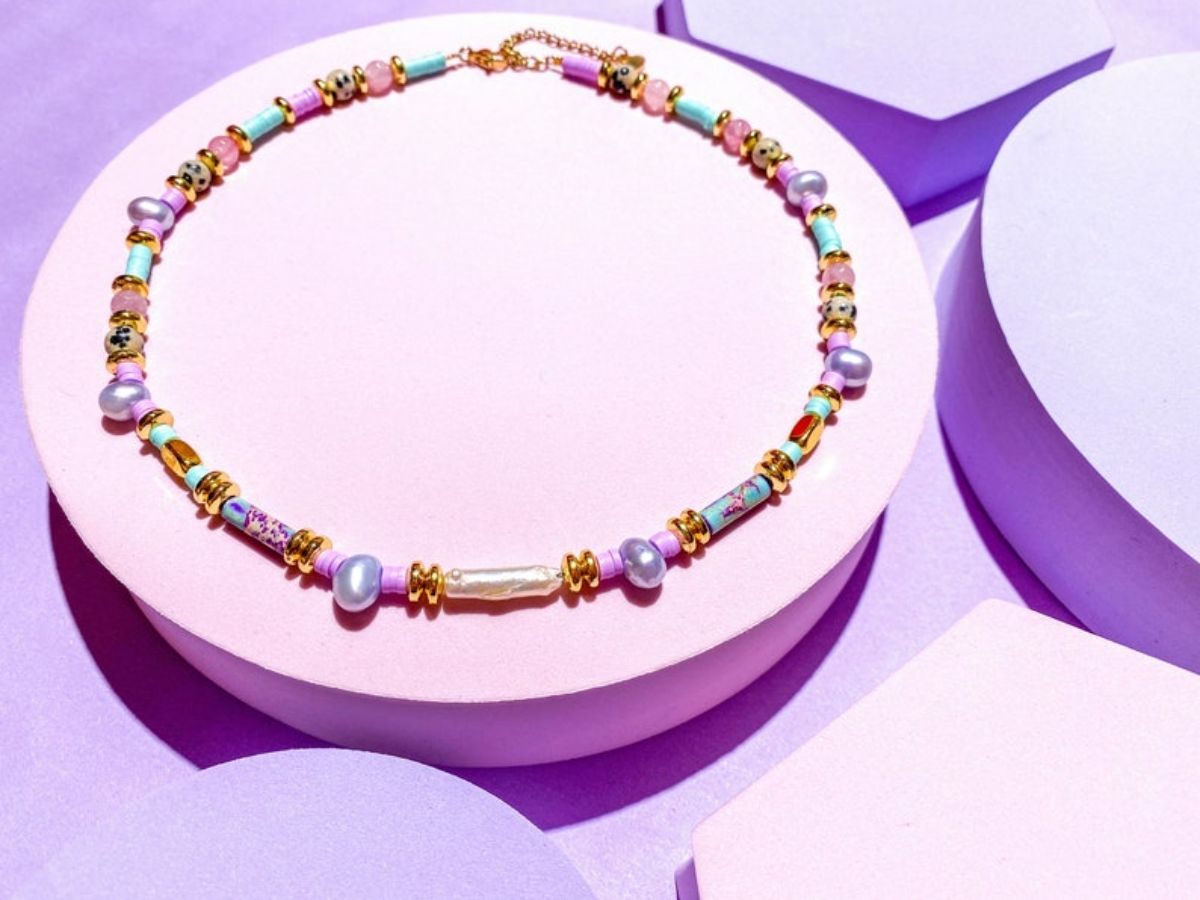 Once you've gained confidence in styling your statement choker necklaces, you can start experimenting with layers and textures! It makes styling even more fun and exciting. 
Let's talk about layering. The best chokers for this are ultra slim ones since they tend to look lightweight and discreet. For this, you can start with Flutter's Silvermoon. It only contains silver beads and one focal point, the mother-of-pearl crescent moon. You can easily layer longer silver chains with this necklace to amp up your style. 
If you choose to stack multiple chokers, it'll look more appealing if all its colors are similar. This achieves a more relaxed look compared to wearing a wide statement choker necklace.
Flutter's Clueless statement choker has pops of pastel purple and periwinkle blue. So, you can easily layer this with necklaces of those colors. Another option would be to pair a single choker with a lariat necklace. The long chain of the lariat pairs well with the simplicity of a choker. 
Never over accessorize
A statement choker necklace was made to grab attention. So, allow it to be the highlight of your entire look. That means you need to steer away from certain accessories that will make your ensemble look stuffy. 
First are dangling earrings. As mentioned earlier, your ears and neck are close to each other. When picking your statement accessory, you can only choose one or the other. Wide chokers are good to wear alone. You can choose to not wear any earrings or just don a simple stud. 
The second is chunky necklaces. Never layer this with chokers. Instead, go for classic long chains or ultra-thin necklaces. This creates balance in the entire look. 
Key Takeaway
Even after all these tips on how to wear statement choker necklaces, the most important rule to follow is to wear what makes you feel like your fabulous self! It's important to feel comfortable and beautiful in the things that you wear. Use this article as a guide to get started since it can be daunting to wear big statement chokers. 
If you're looking for beautiful handcrafted statement choker necklaces, check out our online store here at Flutter Statement Jewelry! We carry choker necklaces as well as statement earrings, body jewelry, and bracelets.
Make your Design Happen
Provide us your email and we'll send you a quote and instructions on how