Your cart is currently empty.
You have not viewed any product yet!
Select Currency
FOX v.1.4.0
+
Style Tips for the New Year: 5 Statement Jewelry You Can Wear

What statement jewelry can you wear in the New Year? 
Choker necklaces

Sparkling Chandelier Earrings

Beaded Tassel Earrings

Layered necklaces

Collared necklaces
As the cold air of December sets in, everyone starts to get busy planning their holiday parties. Women are already looking through their wardrobes for the best dresses, suits, or tops to wear for their long list of festivities. To help you out, here are some of Flutter's statement jewelry for holiday parties to inspire the perfect accessories for your winning holiday looks.
Choker Necklaces
Choker necklaces are a great touch to any outfit. It's fitted to one's neck, allowing all eyes to drift toward the statement necklace you're sporting. This complements a variety of dress styles, making it perfect to wear once the ball drops on New Year's Eve.
Alluring, intriguing, enthralling, and fascinating — our Stage Lights Gold Choker is the perfect choker necklace you can wear for New Year. Its handcrafted gold beads are made with fire-flash polished crystals and gold Japanese beads that can be paired with everything you wear like strapless or single strap tops, off-shoulder necklines, or ultra-sheer blouses — may it be casual or formal attire this holiday season.
Sparkling Chandelier Earrings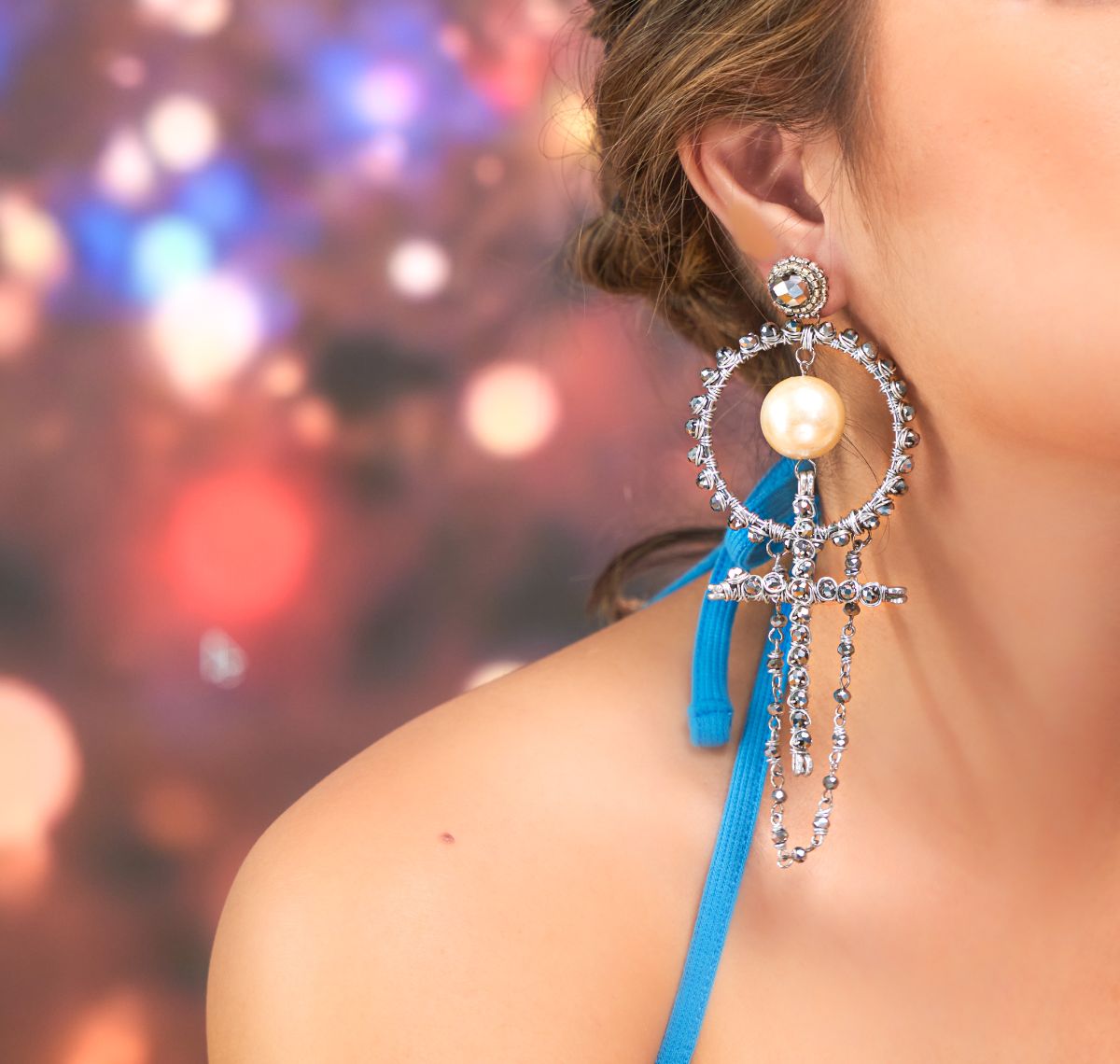 Chandelier earrings are elegant and sparkling pieces that add oomph to any New Year's outfit. So, if you're ready to ramp up your fashion game, it's time to open your beautiful collection of chandelier earrings or add a new one to your jewelry box!
Flutter's Hope earrings are silver-colored chandelier earrings has three distinct parts giant shell pearl, a ring of life, and a cross of faith. It contains spun fire flash polished crystals with non-tarnish silver aluminum. These earrings are a versatile piece that can be worn with your skinny jeans and strappy top for that sexy look for New Year. If you want to pair them with your black dress, go for it! Experiment and have fun with these striking pair of chandelier earrings
Beaded Tassel Earrings
Beaded tassel earrings add a little bit of fun to your look this New Year's Eve. This statement piece will move with you as you dance the night away with your family and friends.
Flutter's Nirvana beaded tassel earrings are the perfect pieces to wear this holiday season. This lavender white shoulder duster can be styled for both casual and formal occasions. The lavender Sahntug silk and Japanese seed beads that make up its parasols are the highlights of the piece. In the end, the white retro vinyl rice beads dust your shoulders as you move through your many holiday parties.
Layered Necklaces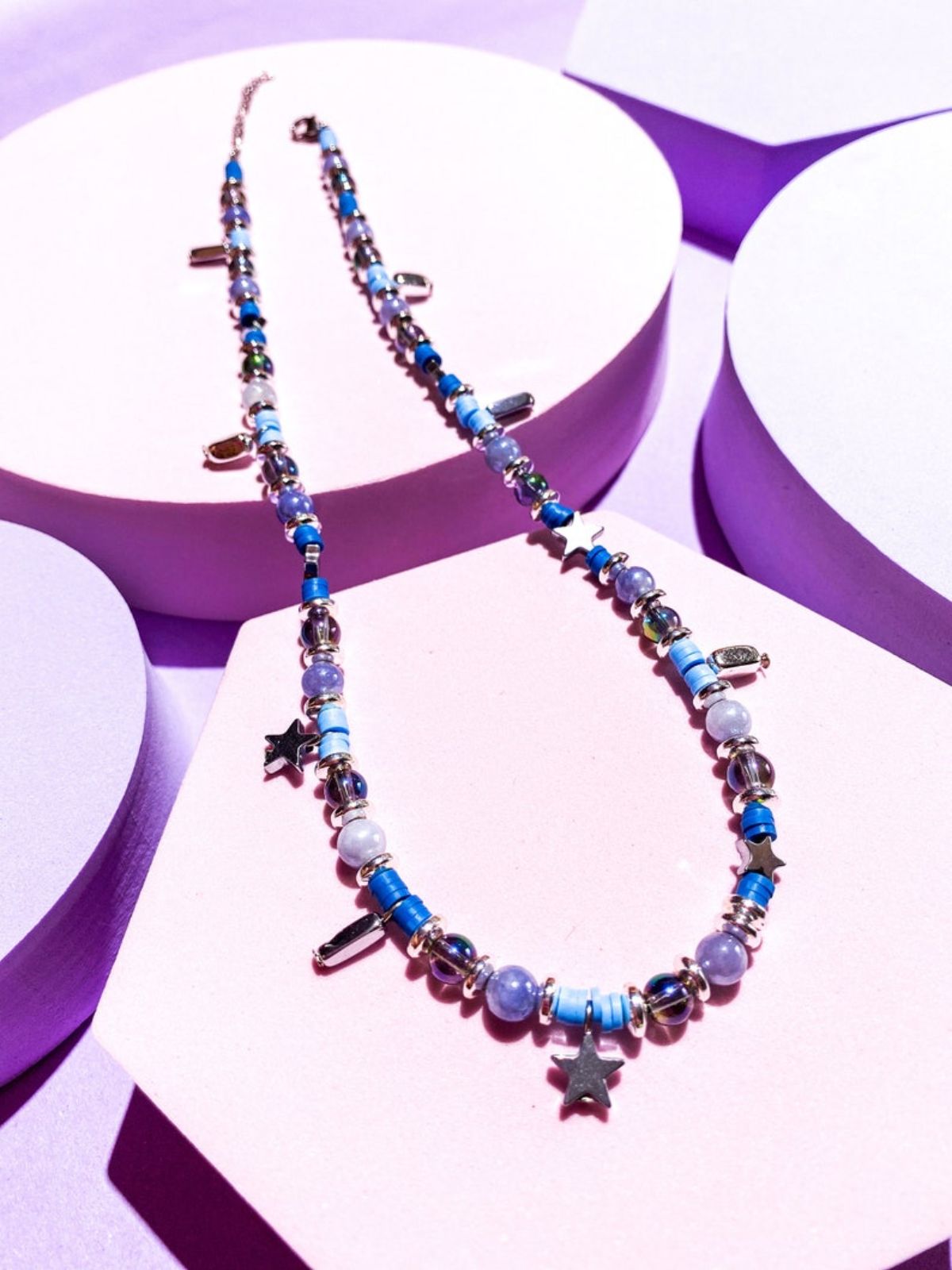 Cool, rock vibes with delicate and colorful beads, Flutter's Mustang Chick has proven that there are no rules when it comes to layered necklaces!
You can rock the New Year with this rainbow-colored glass layered necklace with a bohemian-inspired outfit. Layer it with other pieces like Flutter's Vanilla Ice necklace and even long silver chains. From denim vests to deep necklines, this piece adds a little bit of rock and roll to the new year.
Collared Necklaces
Let all eyes be on your this New Year's Eve with an extravagant collared necklace. This statement piece adds flare to simple New Year's Eve looks.
Wear our Pharoah Statement Necklace with a comfortable Kaftan or a form-fitting little black dress. Its gold Japanese beads, champagne yellow twist glass crystals, and fire-flashed polished crystals sparkle under the lights at any party.
Key Takeaway
Those were some of Flutter's statement jewelry perfect for holiday parties! Whether you're going for a simple or extravagant look, there is a statement piece perfect for you. Don't forget that the most important thing when wearing an accessory is to make you feel more confident and comfortable wherever you go. Find the perfect statement piece for your taste this holiday season here at Flutter Statement Jewelry. Shop our catalog here today.
Make your Design Happen
Provide us your email and we'll send you a quote and instructions on how