You have not viewed any product yet!
Select Currency
FOX v.1.4.1.1
+
5 Ways to Support Local Jewelry Designers and Artisans

How can you support local jewelry designers?
Share their work on social media platforms
Participate in local jewelry-making workshops
Purchase from local boutiques
Commission their work
Write positive reviews
There is a secret gold mine of originality and talent waiting to be uncovered right in your neighborhood, in a world that sometimes feels dominated by mass-produced commodities and international businesses.
Enter the enchanted world of local jewelry designers and makers, where each item is lovingly made by hand and imbued with the creator's vision and passion. In this article, we show five simple ways you can support local jewelry designers. These acts can transform one's business because you are opening up a world of magic and empowerment if you're drawn to the appeal of distinctive statement jewelry and long to make a difference in your community.
Share Their Work on Social Media Platforms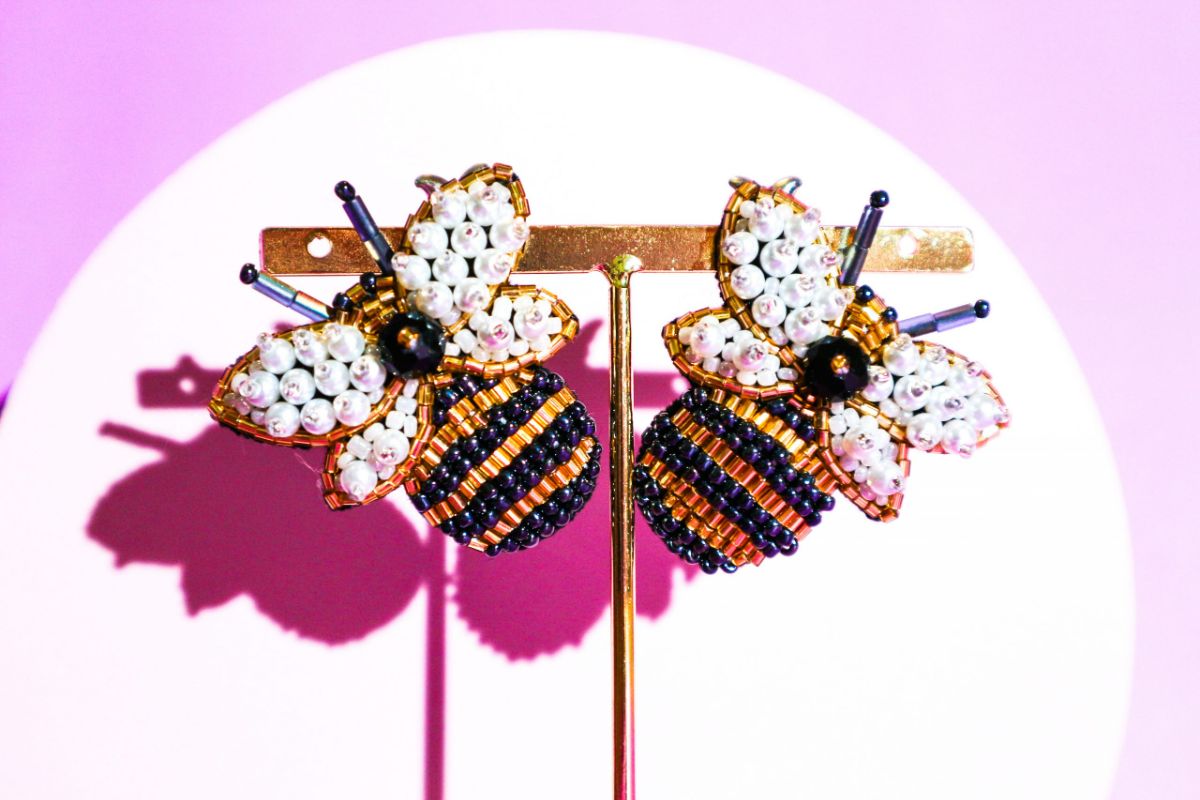 Social networking has become a potent tool for supporting and promoting regional jewelry designers in the digital age. The opportunity to increase a local jewelry designer's reach and visibility in the wide online world is just one of the many benefits that can result from the straightforward act of sharing a photo or post about their product.
The impact of a local jewelry designer's creativity is expanded beyond the boundaries of their physical location when you include their work on your social media platforms. A broad audience from different continents and cultures can view and appreciate the artist's works because of the global reach of social media platforms.
Sharing a picture or blog post of Flutter's gorgeous animal statement earrings, for instance, can inspire a flutter of admiration and innovation. We are a handcrafted jewelry brand situated in the Philippine islands. The artistry of Flutter is made known to a larger audience by you presenting their original works on your social media platforms, aiding in their gain of widespread acclaim and appreciation.
At Flutter, we are not just a jewelry company – we are curators of a rich embroidery and beading culture that has adorned the Philippines for generations. Each of our designs embodies love, beauty, art, and history, meticulously woven into every bead and thread. Our deep devotion lies in preserving this precious cultural heritage.
Participate in Local Jewelry-Making Workshops
Participating in local jewelry-making workshops not only allows you to support local jewelry designers but also helps you tap into your own creativity. These enriching courses provide a gateway to the mesmerizing world of jewelry-making, where you'll gain invaluable insights into the various techniques employed by skilled artisans.
As you immerse yourself in the process, you'll develop a newfound appreciation for the artistry involved in crafting each jewelry piece. Guided by knowledgeable artists, you'll create your own distinctive masterpiece, fostering a deeper connection to this age-old craft.
Purchase From Local Boutiques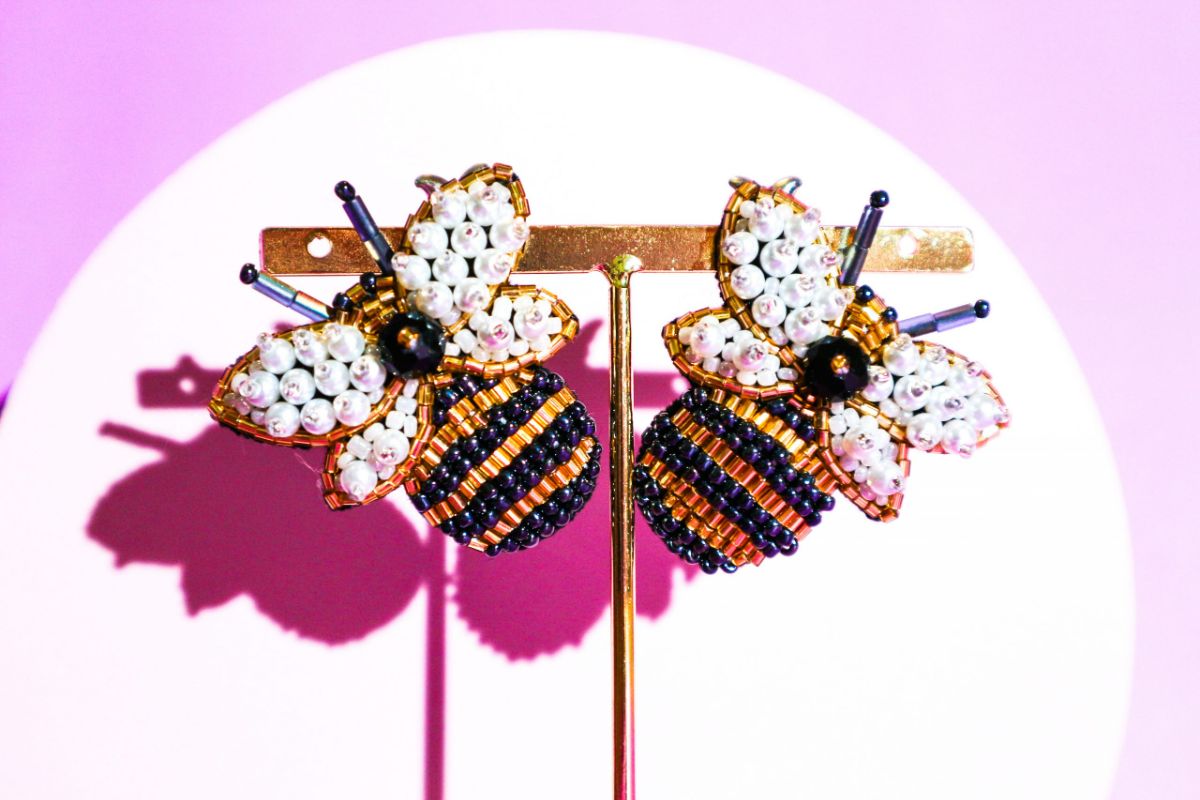 When you decide to make purchases from neighborhood shops that feature the creations of exceptional jewelry designers, you play a crucial role in supporting local craftspeople and artists. Showing love through purchasing directly supports these talented people's incomes, their creative aspirations, and the development of a thriving local art scene.
Just like when you purchase from us here at Flutter, a handcrafted jewelry brand with roots in the Philippine archipelago. Our designs, created by local articsans with a passion for restoring the embroidery and beaded arts, ooze love, beauty, art, and history. In addition to adorning you with spiritual treasures, purchasing Flutter's magnificent products actively helps their mission to preserve cultural heritage.
Read next: 4 Statement Jewelry Trends to Watch Out For in 2023
Commission Their Work
Collaborating with an artisan to create a unique piece tailored to your preferences is an unforgettable journey. From the initial design discussions to the final product, you witness the transformation of ideas into wearable art. Not only do you acquire a piece that resonates with your soul, but you also foster a personal connection with the artist, making the jewelry even more meaningful.
Write Positive Reviews
A few kind words can have a profound impact on a local jewelry designer's journey. After purchasing a piece or participating in a workshop, take the time to write positive reviews and testimonials. Your words of appreciation not only boost the artisan's confidence but also serve as valuable social proof for potential customers. By sharing your experience, you inspire others to discover the beauty and artistry of these local treasures, while providing crucial support to the talented artisans behind them.
Key Takeaway
A hidden gold mine of creativity and talent is waiting to be discovered in your area in a world that is frequently overshadowed by mass-produced goods and multinational corporations. Each handcrafted piece of jewelry is infused with passion and vision by local jewelry designers and manufacturers who weave entrancing tales into each design. You've learned five significant ways to support local jewelry designers through this article, which opens up a magical and empowering world.
Discover the beauty of Filipino craftsmanship at Flutter, a handcrafted jewelry brand rooted in the Philippines. Unleash your imagination, find a piece that resonates with your heart, and forge a personal bond with our creative vision. Together, we preserve cultural heritage and adorn you with everlasting treasures. Get in touch with us right now and shop at our store to start this exciting journey.
Make your Design Happen
Provide us your email and we'll send you a quote and instructions on how