You have not viewed any product yet!
Select Currency
FOX v.1.4.1.1
+
What Tops to Wear with Statement Necklaces?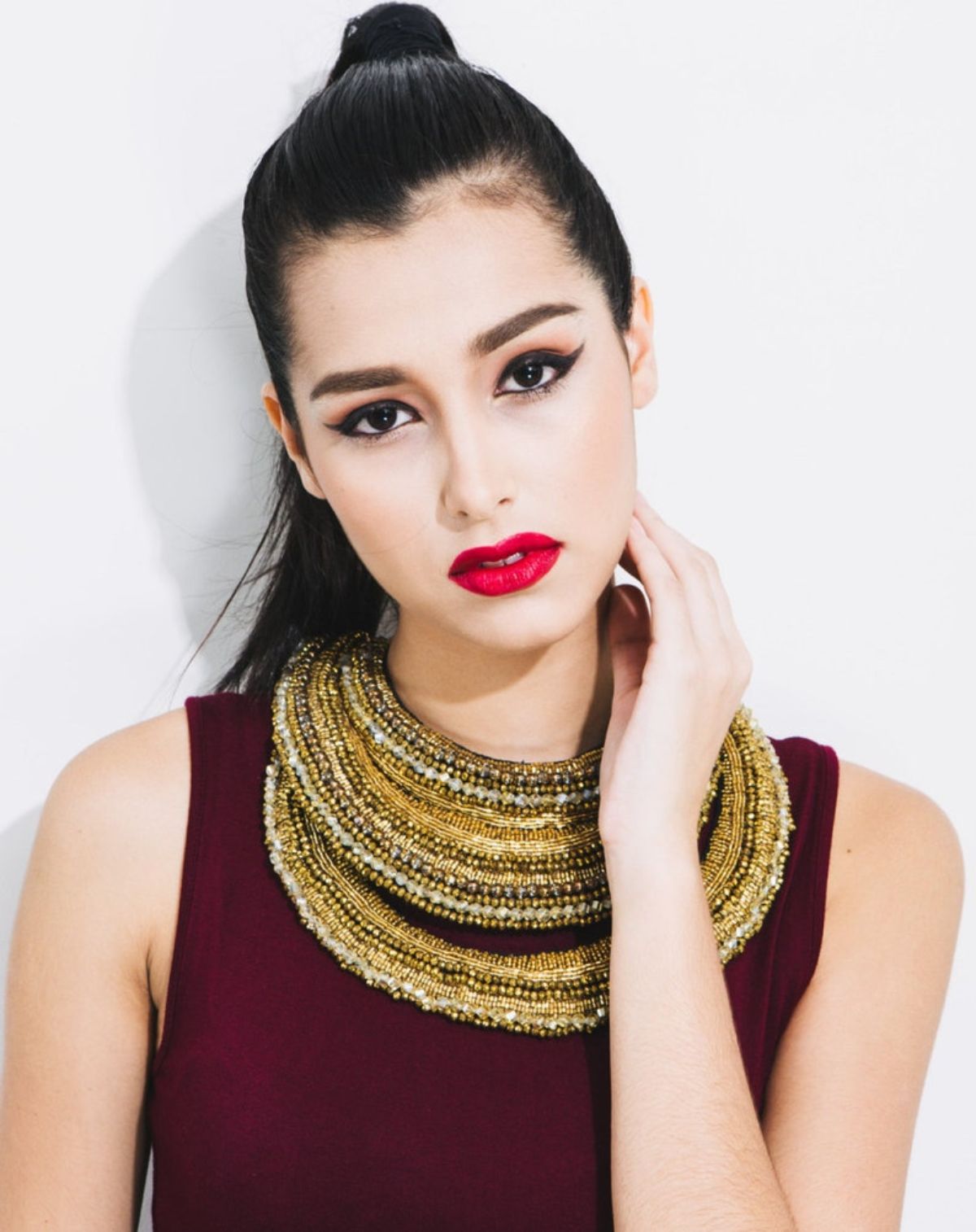 What tops can you wear with statement necklaces? 
V-necks

Plain sweaters

Colorful & printed shirts

Button-down tops

Statement tees

Black tops
You can own many statement necklaces yet still be unsure of how to style them. Some pieces may seem loud that you're too afraid to use them on a casual day. 
Don't fret because this article shares with your the different tops to wear with statement necklaces. There is a multitude of ways to style these pieces of jewelry. You'll find yourself being able to express your sense of style more on casual days by pairing it with some essential tops you may already have in your close. Keep reading to learn more!
V-necks 
A V-neck shirt is an everyday staple. Jazz it up a little by adding a multi-layered statement necklace. This compliments the neckline of this shirt by balancing out its shape. 
Add a bit more edge to this look by pairing your V-neck shirt with a leather jacket and ripped denim jeans. It can still be casual enough for every day with a touch of rock-and-roll chic. 
Flutter's Pharoah Statement Necklace is the perfect piece to layer on top of your V-neck shirts. It is hand embroidered with gold Japanese beads, gold Indian beads, champagne yellow twist glass crystals, and gold fire flash polished crystals. Its hand-sewn combined collared parts give it that multi-layered look. 
You can easily pair this statement necklace with your V-neck tees in deep-tone neutral colors like charcoal, chocolate brown, and beige!
Plain Sweaters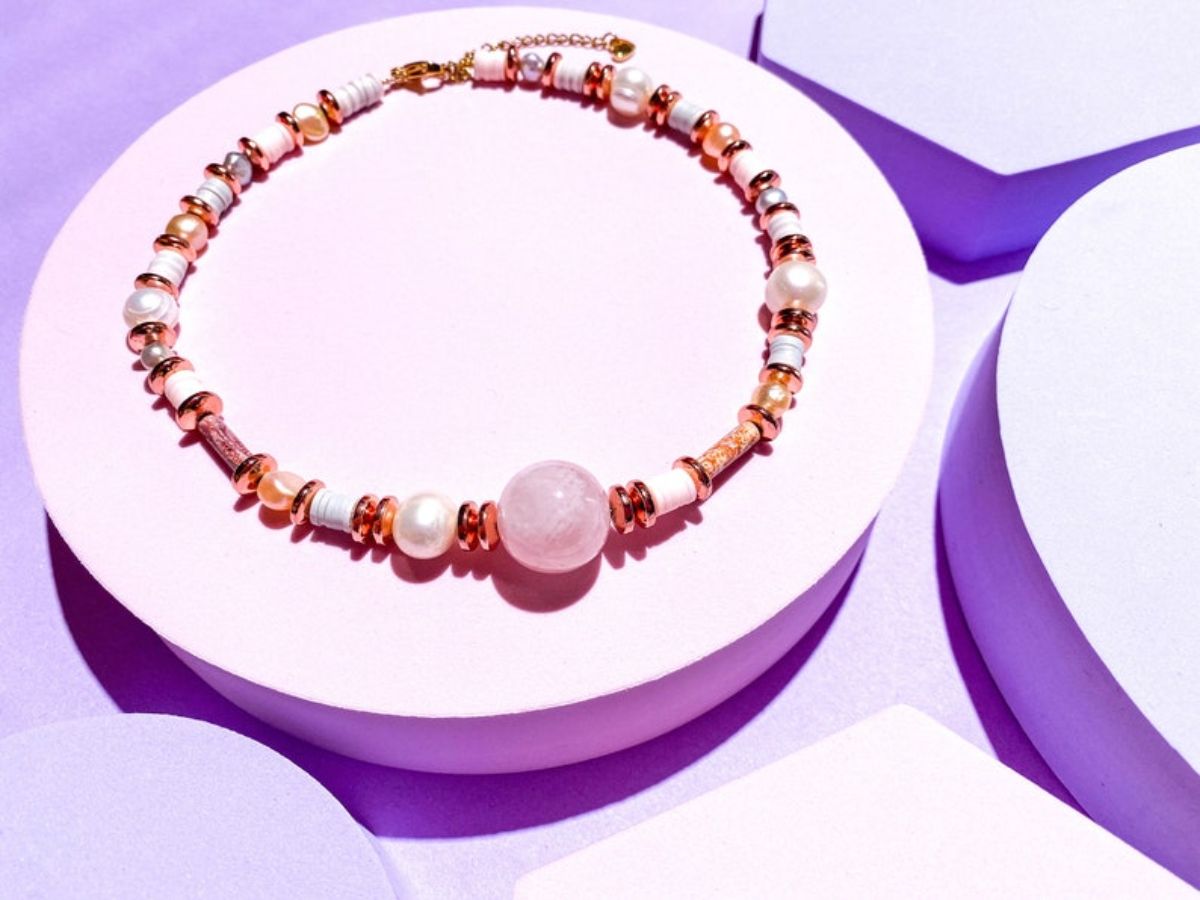 Cozy sweaters are essential as the weather gets colder. However, they can tend to look plain and simple. Why not try adding a splash of color to it for a brighter and more cheerful ensemble? 
Statement necklaces are a great way to add that pop of color you need for your sweater. If you're a bit hesitant to be flashy and vibrant, a pastel or neutral-colored necklace can also easily liven up the look. 
If you're sporting a simple, white sweater, pair it with the Rose Gold Gumball / Jawbreaker. This unique 90s rose gold beaded necklace gives the perfect feminine touch to your sweater. It's stylish for every day use. 
This statement necklace is made of round rose quartz and freshwater pearls in shades of pink and grey. The pink tones in this necklace are complimented with leopard jasper and environmental-friendly polymer beads. 
Colorful & Printed shirts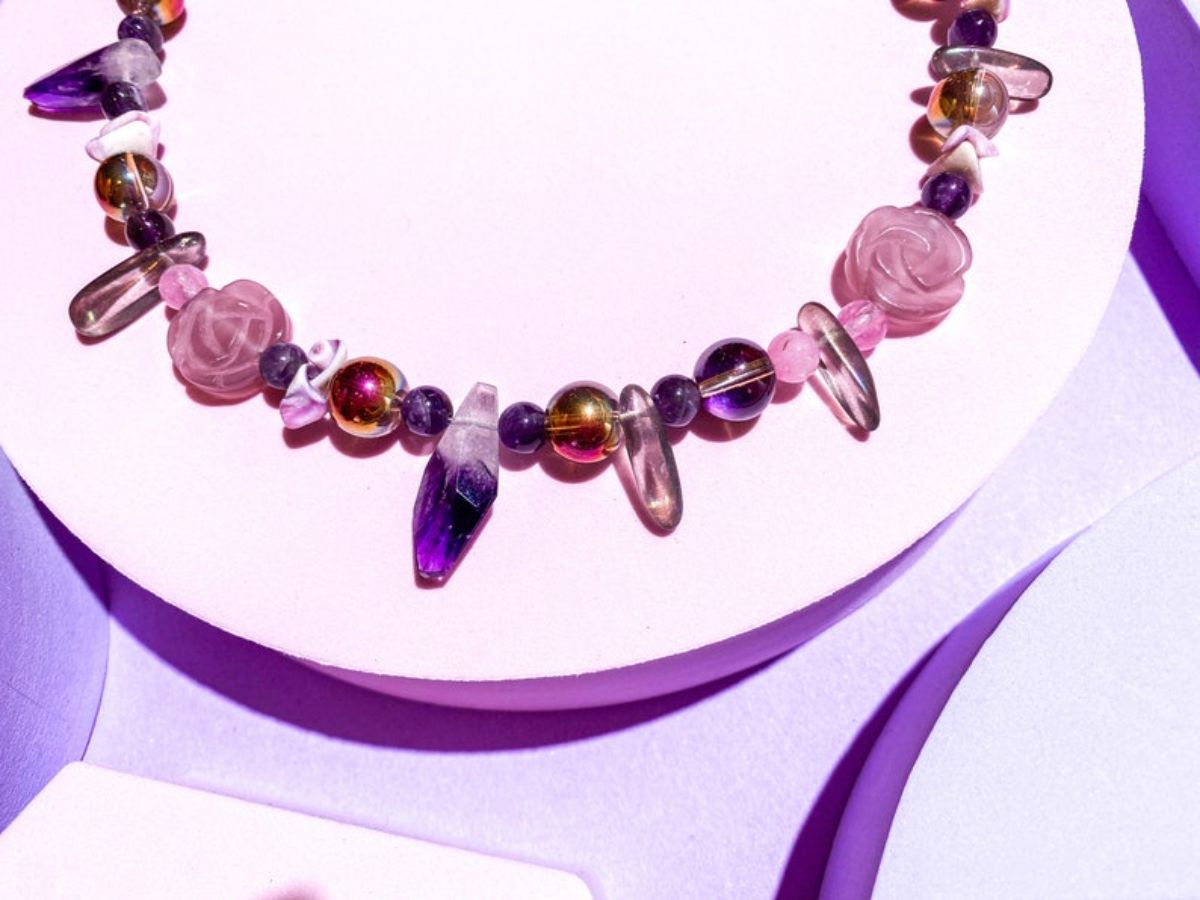 It can be tricky to style and accessorize loud shirts. With all the colors on a pattern, you may not be sure what color to choose from your collection of statement necklaces. 
The trick here is to simply pick a color from the t-shirt's print. Whether it be the dominant color or another shade from the print, doing this can bring the outfit together. 
If you're wearing a printed shirt that contains hints of purple, you can easily pair it with Flutter's Punk Queen. This necklace is filled with purple hues that can bring out those pops of purple on the shirt. 
The highlight of this necklace is the amethyst chevron spikes around the necklace. It's combined with rose cat's eye, oil slick glass beads, round amethyst, purple Angelite, and everlasting shell. You bring the punk vibe to your outfit yet remain soft and feminine because of its purple colors. 
Button-down tops
Statement necklaces are welcome in any kind of setting, even at work. Don't be afraid to style your classic office button-downs with a pastel-colored or neutral necklace. The colors keep it clean and professional while still making a statement. 
You can tuck your statement necklace underneath a button-down collar or simply wear it on your neck. For the office, try to avoid chunky and loud-colored necklaces to keep the look neat and professional. 
Flutter's Baby Blues can go perfectly with a classic white button-down shirt. This is a retro aquamarine choker filled with light colored shapes. It's made from faceted aquamarine rose quartz, mother-of-pearls stars, and baby blue freshwater pearls. It gives a fun yet neat twist to a classic office look. 
Statement Tees
Wearing a graphic tee or a statement shirt can sometimes look plain. You can go for an urban and modern look by pairing your shirt with a statement necklace. 
It might look tricky to style because of the bold lettering and pictures on the shirt, but it's quite simple. Statement tees call for either smaller statement necklaces or chunky choker pieces. 
You can pair the Stage Lights Silver Choker with a t-shirt sporting your favorite quote or your favorite band's logo. It gives your entire look a street-style edge while still looking casual enough for every day. 
This choker is hand beaded with white Japanese beads and silver fire flash polished crystals. This necklace can be versatile enough to wear on a casual day with your graphic tees and at a formal dinner party. 
Black Tops
Everyone loves a black-on-black outfit. It's neat and classy, but it also gives you a mysterious vibe.
You may want to spice up your usual black ensemble with neutral-colored accessories like gold or silver statement necklaces. This adds a distinctive element to your look whether you're heading to school, meetings, or work. 
Add an edgy look to your favorite little black dress with Flutter's Silver Cleo Statement Necklace. Inspired by the famous Egyptian queen, this necklace can make you feel like royalty! It's a hand-embroidered collar necklace with Indian beads, silver flash polished crystals, and white Japanese beads. 
Key Takeaway
It may sometimes be difficult to style, but there are many tops to wear with statement necklaces! Now that you've read this article, you have lots of ideas for your next look in the office, school, or even the mall!
If you're interested in purchasing unique and handmade statement jewelry, you can check out our online shop here at Flutter Statement Jewelry. We have hand-crafted necklaces, earrings, and bracelets made from locally sourced materials in the Philippines.
Make your Design Happen
Provide us your email and we'll send you a quote and instructions on how